20 Feb

Be Our Guest-How to Host Overnight Visitors in Your Small Space

When you choose to live in a tiny house of any kind—THOW, skoolie, van conversion, or park model—the occasional passerby will often want to come in and "oooohhh" and "ahhhhh" at how you survive on so little. However, this is much different than housing overnight guests.

So can it be done? Can you host overnight guests in your tiny house comfortably?

Here are some things to consider before inviting over the crew.
You Will be Short on Space
This is true no matter the house size. In the average American household of 2200+ square feet of outspread glory, with counters, an island, and a bar in the kitchen but it will still covered with mail, papers, homework, and random bits of unidentifiable food from earlier in the week. When your counter is simplified to a sink with fitted inserts and a 1'x3' square that can flip up to extend your prep space things can get hairy during food prep for guests.
Still, you will make it work. Fix simple lunches, leftovers, visit local spots, and have a dinner of on your outside grill. No one will go hungry and no one will complain because you are giving them an experience—making memories.
Small Messes Seem Bigger in Tiny Spaces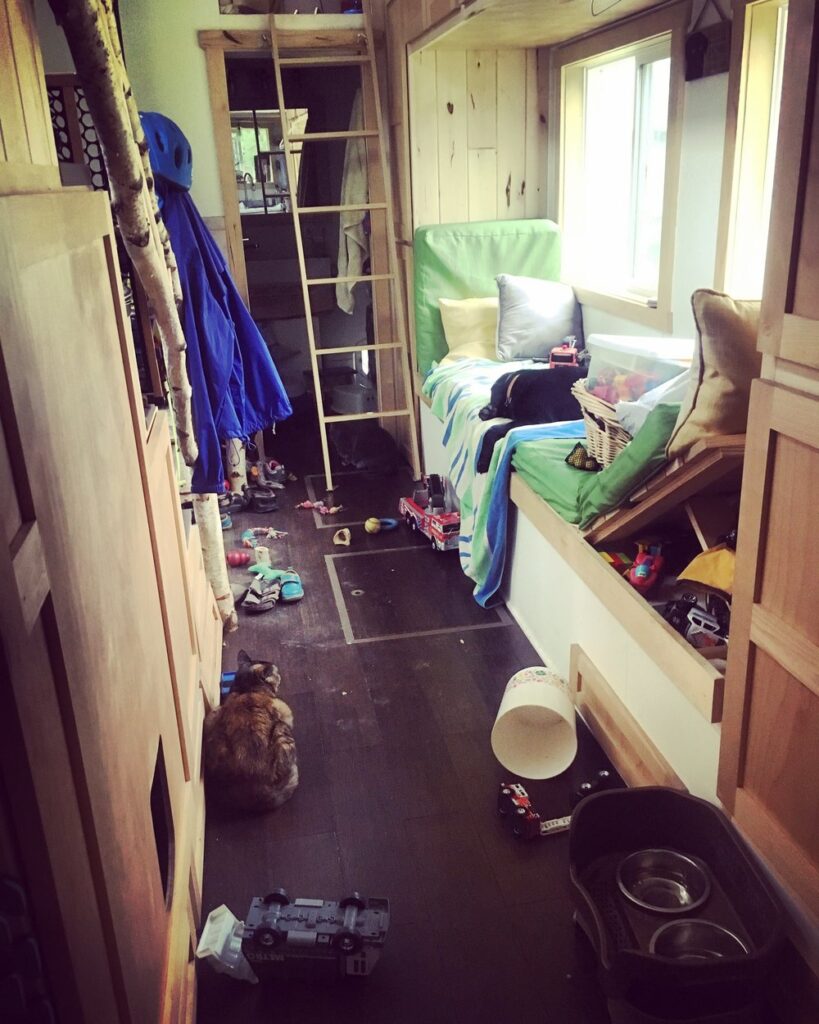 Houses can get messy fast, no matter their size.
When you have extra people within arms reach of each other in a space made for you and yours, things are going to inevitably get dirty, broken, stepped on, or worse. But people won't notice. The mess only seems magnified to you.
In a small space, you can sit back and watch as people become conscious to clean up their own table mess, clear their after dinner crumbles, and wipe a counter or two. Their shoes were put away because, if they weren't, the hallway became impassable. Food was put back in its place because there simply wasn't room to stack anything else.
Make Use of Outdoor Space
Tiny house expert Laurie LaVoie suggests, "We always make use of outdoor space. We host a barbecue or camping weekend so our time is spent outdoors."

Even if you live in a large city, you can make great use of community spaces like local parks, community gardens, and even playgrounds. People love feeling like a kid again so this might be the perfect opportunity for you to take the party to them!
Sit outside; for dinners and Legos, for playtime and partying, sit outside. Cooking s'mores over the fire and watch a "drive in" movie under the stars on inflatable mattresses and lawn chairs.
Yes, it might be tight when you are all inside, but take your guests in a time machine with card or board games. Turn off the tech and talk to each other. You will be grateful your did and so will your company.
Specialized Seating (and Sleeping)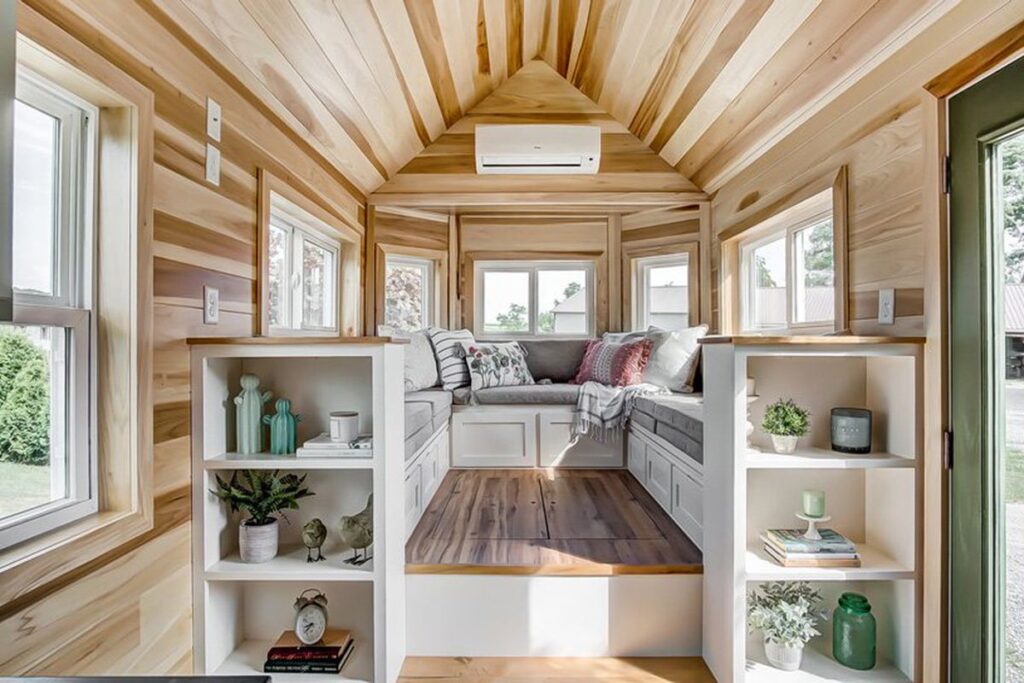 Finding places for everyone to sit in a small space can be challenging. Of course, the first go-to is utilizing outdoor space with comfy outdoor furniture, taking the dining table to the deck, or having a picnic or barbeque in the park. However, if those aren't viable options or don't fit your party theme, you can always make it work.

Think outside the box on this one and opt for non-traditional seating such as placing seat cushions on steps, large pillows for floor seating, bench seating in windows, or even hosting a middle eastern theme which would suggest floor seating around a smaller table. Remember that your guests know you live in a small space so making it cozy and fun should be your goal.
When it comes time to crash, utilize your pull out couch, loft level living, or even create a cozy camping environment and join your guests outside to sleep.
People question living in a small space, but all people know we crave connection. It doesn't matter if that comes on an air mattress sleeps and kids that seem to multiply by the hour. That old school experience will be good and rich and necessary.
If you haven't connected with family or friends in a small, cozy, simple space or in the beauty of a rain shower outside, do it. For more great ideas on entertaining in your tiny house, follow us on Instagram and like us on Facebook!