25 Jun

Becoming More Environmentally Friendly

Tiny houses put homeowners on the path to eco-friendly living. Maria Saxton, a Ph. D. candidate in environmental planning and design at Virginia Tech recently conducted a study of 80 tiny-house owners and found that their "ecological footprints were reduced by about 45% on average."

It's clear that today people are trying more ways to reduce their environmental impact and are becoming more aware of their own carbon footprint. Due to this, people are searching for ways to live a more sustainable life.

To help out the environment, many people are simplifying their lifestyle to reduce their personal consumption and wastage levels. Tiny house living has grown by leaps and bounds over the past few years & many people are reducing their real estate size to help the earth.

In my research, I found 5 eco-friendly tiny house design trends for 2021 and some ideas you can do to become more environmentally friendly.

A popular trend seen in Tiny House designs is to really embrace natural lighting sources. After all, nothing says environmentally friendly like a house that primarily relies on our earth's most natural lighting source, the sun.

The more light, the merrier.  If you are still in process of designing your Tiny House, think about installing a skylight.


Many tiny houses are being built with large scale windows to brighten their rooms with as much natural daylight as possible. Skylights are also a popular choice, which allow tiny homes to better harness the sun. These two design choices pave the way for big energy savings, as light bulbs are only necessary at night time.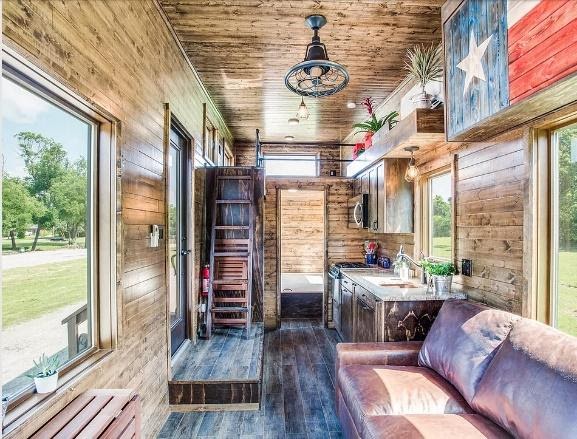 Repurpose, Recycle, Upcycle
The tiny house movement is all about reducing consumption. That said, many environmentalists prefer to build their small compact house designs using as much recycled materials as possible. There are tons and tons of construction and demolition debris produced in the United States every year. However, a lot of this waste can easily be repurposed and used when building a tiny home. Materials such as wood pallets and other building scraps can be incorporated into a new build instead of being thrown away into the landfill. There is really no limit to what items can be used for your new tiny home. I know a few builders that started their supplies list with recycled parts and pieces. You can find a lot of examples on the internet, plus find some great ideas and designs!
Roof Top Solar Hot Water Systems
Solar energy is a huge trend for tiny homes in 2021. Renewable resources are vital to reducing our universal carbon footprint, and so many tiny home owners are utilizing solar energy to power their houses.
Solar water heating systems use solar panels, known as collectors, fitted to your roof. These collect heat from the sun and use it to heat up water that is kept during a hot water cylinder. A boiler or heating element is often used as a back-up to heat the water any to succeed in the temperature you wish. A qualified plumber can install solar panels on your roof, leaving you to enjoy sustainable hot showers in no time.
Of course, as solar power is harnessed from the sun, it is important that your tiny house is located in a sunny climate. This will keep your system working efficiently and help to reduce your environmental impact whilst also keeping your running costs low.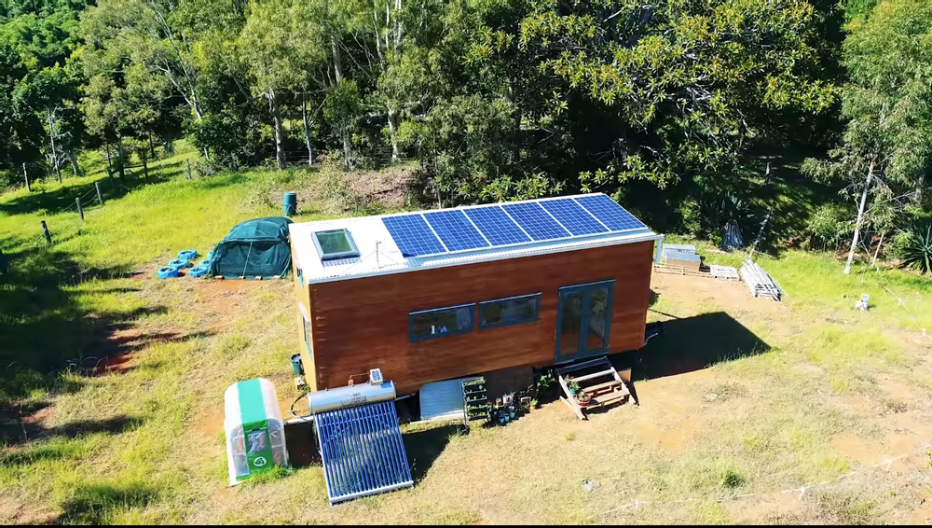 Composting toilets are a fantastic eco-friendly option for a tiny home. These toilets don't require any water to flush, making them the perfect bathroom choice for sustainable living. In fact, composting toilets can save over 9,000 gallons of water per year for a regular sized home. Composting toilets are the best option for those wishing to live sustainability and off-grid. Composting toilets will save water, energy, and waste can be recycled as fertilizer. Good quality composting toilets are relatively odorless.
As they do not require any pipework to run through your property, you won't need to worry about installation or ongoing plumbing maintenance costs.
Tiny house design for 2021 has also seen composting toilets rise in popularity due to their compact nature. These toilets can be installed anywhere in your tiny house and are great space savers. They are also designed without a cistern, and so are ideal for tiny homes with minimum space to work with.  Here is a great resource to review: The Best Composting Toilet Options in 2021 – Bob Vila
Plants will offset your carbon footprint and make a great addition to your home. They absorb carbon dioxide, one of the greenhouse gases. Through the process of photosynthesis, plants purify the air inside your home. Plants are a great way to use nature as the decor in your house, providing a pop of color and a beautiful, calming aroma.