04 Jun

How to Calculate the Weight of Your Tiny Home and why it is So Important!

Today I was reminded of the importance of calculating the weight of your tiny house, BEFORE you build. Yes, the stress is on before. I am in a Tiny House group and one of the members was asking for suggestions on how to cut down the weight of her almost finished THOW. They had already maxed out the trailer weight and hadn't yet finished the interior. It is a huge problem with no fast, easy fixes at this point. It impresses the extremely important concept of pre-engineering the project, which from her story, had not been done. 

Calculating the weight of your tiny house beforehand might seem to be an overwhelming task, but it must be done. You can't even think about what kind of trailer to start with if you don't know the weight of the load it will need to bear.

And, not taking certain things into consideration could have dangerous consequences.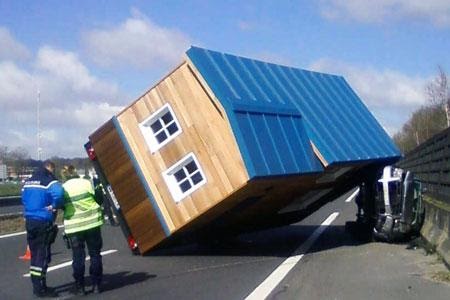 How is the weight of a tiny house calculated?
A tiny house's weight is made up of the trailer that the house sits on, the materials you build your house with, and the contents of your tiny home. The trailer itself needs to be included in the calculation when considering the weight of your tiny home. If you purchase a trailer from a specific trailer/hauler dealer they should be able to give you specific weights for the axels, trailer, tongue, and hitch. 
As a reminder from a recent blog post "How to Tow a Tiny House: TinyHouseBuild.com Digital Workshop," it's important to know the weight of your Tiny House, but it's equally important to know the weight distribution of the build. The side-to-side weight distribution is vital to safe towing practices. I'm sure you've seen the sign on the highway of the truck tipping over on a tight curve, right? Don't let this be you! Pay close attention to the way you distribute weight around your moveable Tiny House.
While your Tiny House is not a caravan, the illustration below will help you with loading your Tiny Home and weight distribution. Heavy things can be placed at the middle or back of your tiny, to make sure your tiny is stable during transport.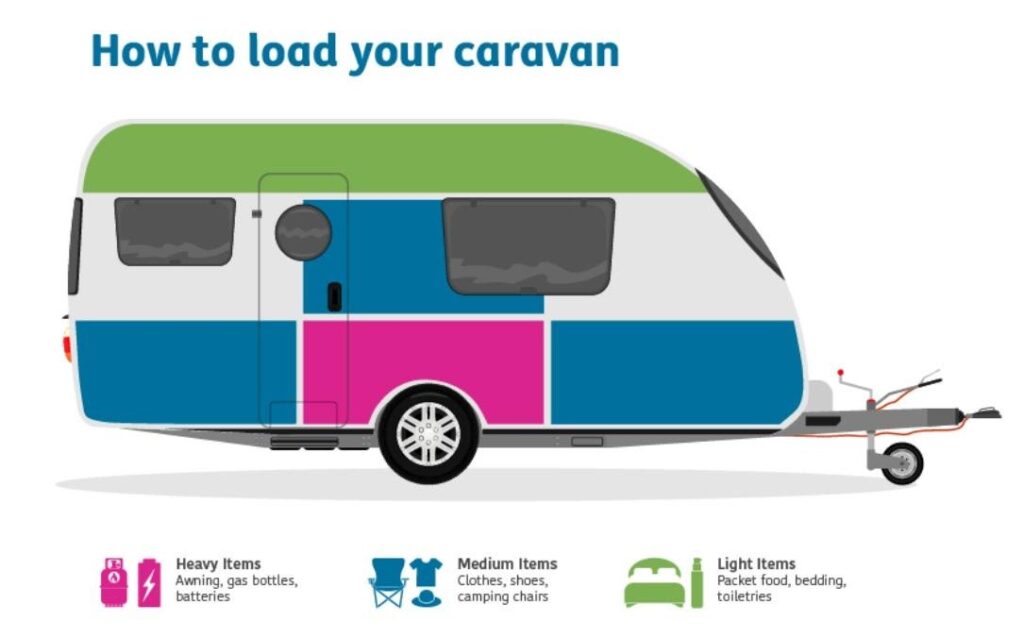 Tongue weight is "the downward force that the tongue of the trailer applies to the hitch of the tow vehicle." Knowing the tongue weight of your tiny house is critical for a safe tow. When you measure your trailer's tongue weight with a tongue scale, you can verify the other hitch components are capable of safely towing the weight of your tiny house load. Ideally your Tongue Weight should be between 9% and 15% of the Tiny House total weight. So, if your house weighs 10,000 lbs., your Tongue Weight should be no more than 1,500 lbs.  Remember to add a buffer for the weight you will be carrying in the bed of your truck. Some standard trucks are not designed to carry a lot of weight on their hitch. Many Tiny Housers prefer a dually. 
Gross Vehicle Weight (GVW): The total combined weight of the trailer and everything on it. This is basically the entire "vehicle" weight.
Gross Axle Weight Rating (GAWR): This is the maximum distributed weight that an axle can bear. Common values range from 4000-7000 lbs GAWR per axle.
Gross Vehicle Weight Rating (GVWR): This is the maximum GVW that a trailer can bear without buckling/bending. This should be in the trailer's specification sheet.
Gross Combination Weight Rating (GCWR): This the combined total weight of the GVW of the trailer and the GVW of the towing vehicle.
You can calculate the Weight of your Tiny Home DURING the Build
1st. Weigh your empty trailer and 2nd. Weigh the materials you use. It is a tedious task, but doing this calculation will give you a ball park estimate of your final weight, which is better than nothing. If you purchase Tiny House plans, there will be an estimate of weight, but keep in mind this is before you add your furniture, appliances and clothing.
I found this Article to be very informative and it goes into great detail on all elements of how to calculate your weight, right down to your appliances, furniture and even your clothes. 
In closing, Tiny Houses can vary greatly in both sizes and weights. Smaller houses tend to be lighter and more mobile. Larger houses, on the other hand, are more difficult to move but often provide much better amenities. If you already have a tow vehicle, you may want to search for a home that you can tow with what you already own. This way, you'll have a vehicle you're already comfortable with, plus save you some money as well. 
Do your homework & your research, and as always, be safe and enjoy the journey!