14 Mar

Safe Travels! Traveling Safe in a Tiny House on Wheels

Ready to hit the road with your traveling home? Just because it has wheels does not mean it is road trip-ready. Today I'll talk about prepping your Tiny Home on Wheels for Traveling safely down the highway. 

A tiny house on wheels is a comfy ticket to adventure. Right? It definitely can be with proper planning.  You can move when need or desire arises. Some travel because of their jobs such as traveling nurses. Others road trip in search of the ideal new city. No matter the reason for moving or a maybe it's a full-blown cross country road trip, safety on the road is essential.

Before you tow, truck and trailer checklist:

Proper tire pressure
Secure attachment to the truck, including hitch lock and emergency break-away system
Working trailer brakes (7-pin connector and electronic brake system in the cab)
Working trailer lights
Correct mirror placement
It's a good idea to double check these items every few stops as well.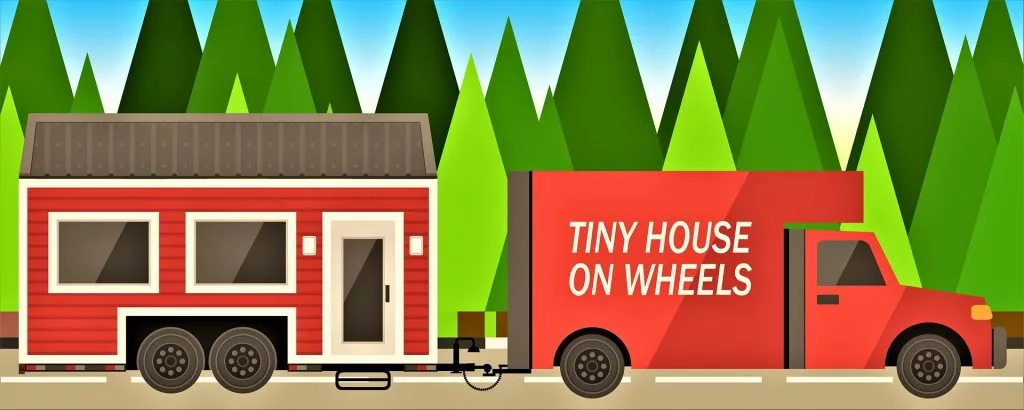 Tow Safely By Weighing In Advance
You can weigh your tiny home at any truck scale. The best way is to weigh the tiny house with your truck attached, then park, detach, weigh your truck alone and subtract that weight from the total. It's important to know your weight and to have a tow vehicle that can handle the load. It is especially important to be aware of your tongue weight, which can be found by purchasing a tongue scale. Many tiny homes have a heavy tongue weight because of the loft. You can counter balance your tongue weight by placing some of your heavier items in the back of the trailer (like water tanks or solar batteries).
Roads in the US do not generally have limits on the weight of your tow load, making it easier to build heavier and bigger tiny houses with all your desired features: kitchen, bathroom, living space, and more. However, it is typically recommended to keep your tiny house's total weight below 10,000 pounds.
If your house weighs above 10,000 pounds, you will be legally required by some states to obtain a special non-commercial license. For more information on whether your state or surrounding states will require this license, check out this page or check your area's laws.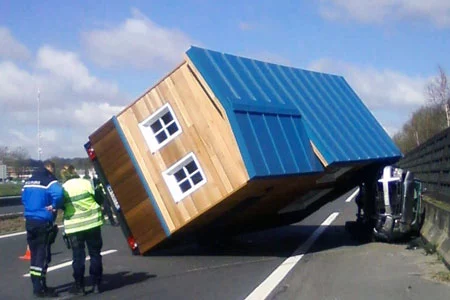 Find Out If You Need A CDL

In most states, no extra licensing requirements are in place for people who are towing tiny homes for their own personal use, even if they are heavier than many of the standard RVs on the market. However, not all states have the same laws. For example, depending upon the weight of your tiny home, you may need a Class A license in California. Check out the laws in the states that you will be traveling through well in advance of your trip.
Securing Items on the Inside
Besides prepping the outside of your Tiny Home On Wheels, don't forget to make sure that you don't arrive at your destination with a major mess inside of your tiny home, take extra steps to ensure all items in your home are properly secured. All shelves should have a protective lip on their front and all cabinet doors should be properly secured. It's okay to use bungee cords. However, if you rely on these and need too many of them, you'll need more time to prepare for your trip. Reduce the number of items that you carry and reduce the amount of time you need to pack up and go. 
Appliances that have been dislodged in their position 
Wall fixtures that fall during the move
Broken plates, cups, mugs, vases, and other brittle objects 
Worn hinges from cabinets/doors from swinging open
Dented refrigerator door from swinging open 
Scratches on the floor from furniture moving
Consider your light fixtures carefully – will they swing? Hanging plants, sports gear and musical instruments should have clamps or bumpers to prevent damage or spills.

Every tiny home has a different set-up. If you find that your first preparations weren't enough to secure the inside of your tiny house, use this as an opportunity to change and improve for your next travel.
Have the Right Leveling Tools For Easy Set Up
Your tiny home will be easier to level when you include bubble leveling equipment. Attach one for right-left leveling and one for front-back. In addition, carry some extra planks of wood in case the lot is not level. This simple precaution will speed set up times and let you enjoy your trip instead of working.
Get A GPS and Avoid Low Underpasses
Make sure that you know how tall your tiny home is before setting off on your travel and equip your truck with a GPS that will keep you out of trouble. Also helps to navigate around low clearances, weight restrictions, propane restrictions, etc. It's excellent and it is worth its weight in gold for peace of mind.
Now that you've got the safety basics down, it's time to start planning your adventure! Make reservations well in advance at RV parks / Campgrounds and always, always, always make sure they accept Tiny Homes on Wheels. And, do they need certification, like NOAH. Also, let them know what electrical, water needs are.  With a big tow vehicle and tiny house on wheels, parking is not always easy. Research your planned route before each leg of your trip to look for opportunities to fuel up or stop for rest. For instance, RV-friendly businesses can be convenient for an overnight stay. Options include:
Walmart

Cracker Barrel

Bass Pro Shops and Cabela's
Also, there are many helpful camping sites with extensive listings, free or fee-based.
Search TinyHouse Villages – the social solution to tiny house parking
https://tinyhousegiantjourney.com/tiny-house-camping/
https://www.campendium.com/rv-parks
Planning your adventure is the most fun part but planning ahead is key and staying safe is important. Follow these tips and have a safe and happy trip!