04 Apr

Safety in your Tiny Home

Rules and restrictions are not always fun things, but they're in place for very good reasons. Keeping you safe while living in your Tiny Home is of utmost importance to NOAH Certified. That's why we are strict with our inspections. And, that's why the NOAH ANSI+ Standard incorporates safety, structural and energy efficiency standards currently used by the Recreational Vehicle AND Home Building industries:
ANSI – American National Standards Institute
NFPA – National Fire Protection Association
NEC – National Electrical Code
Structural and Energy Efficiency Guidelines
Today, I will share some safety tips with you for life in your Tiny Home because even though your home may be smaller, it still needs to be safe. Safety precautions may help save your property and maybe even your life! Also, some of these tips are required by NOAH Certified according to NOAH ANSI+ Standard.
Smoke Detector Of course, this item will be at the top of the list, this device is invaluable and has saved countless lives over the years. They are fairly easy to buy, and you should install them according to the instruction manual. But, remember smoke detectors don't last forever and it is important to replace them accordingly.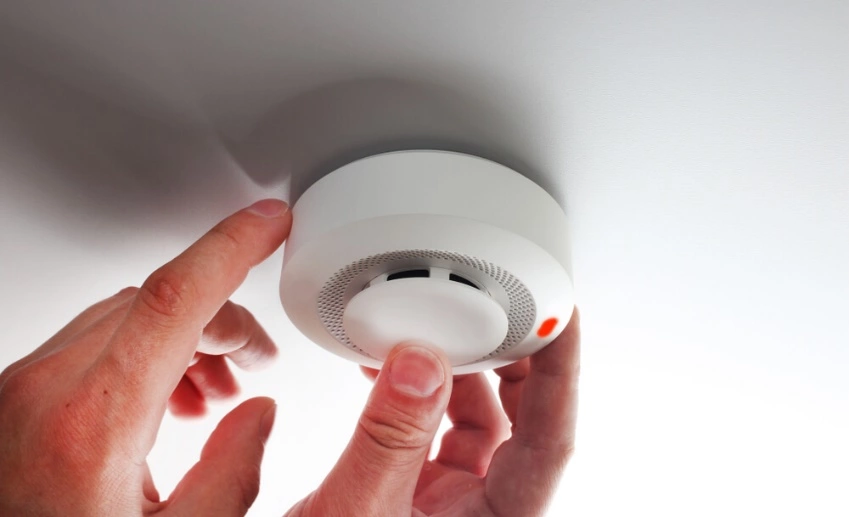 With the tight construction of small dwellings to save energy, carbon monoxide poisoning becomes an even bigger threat. Install a detector with an alarm. Also, Combo smoke/CO detectors can be used to cover these two major requirements in one unit.
Prevent gas buildup in your propane stoves
You can use propane stoves to cook meals inside your tiny house, but make sure to prevent gas buildup. To avoid that, make sure your kitchen is well-ventilated, so the toxic fumes exit your kitchen area. Moreover, when you're cooking, open your windows or turn on an exhaust fan. Propane stoves generate a lot of heat.
And, don't forget to turn off your propane stove when not in use. Check your carbon monoxide detector monthly. Just in case the gas leaks. Carbon monoxide is odorless and colorless, so you will need a detector to prevent contamination during a leakage.
Wood stoves can be considered to be safe appliances by design because fires are contained within a metal box, with a flue transferring smoke, gases and other harmful particulates out of a home. However, wood stoves must be correctly installed and properly operated in order to maintain this certain level of safety. If you decide to go with a wood stove for heating your home you need to consider safety precautions for wood stoves. With the right stove for your space, you can have peace of mind and years of safe, efficient heat for your family to enjoy.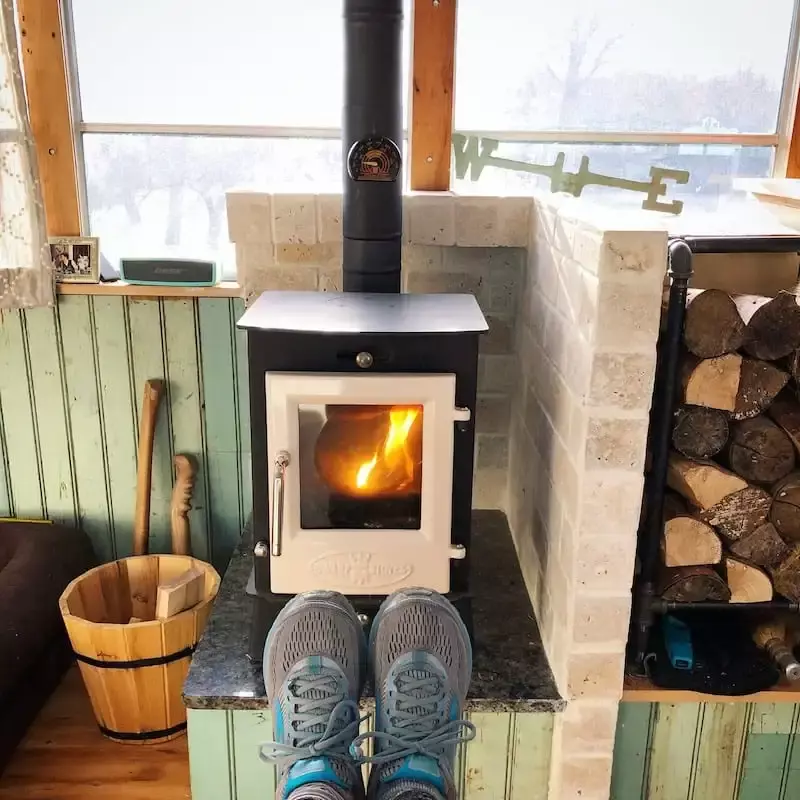 Have a hand held bottle of sufficient size and rating to respond quickly to a fire. This is excellent low cost self-insurance. Keep the extinguisher in visible sight for others to use without looking to find the bottle. You may want another extinguisher outside for the
campfire or vehicle fires. We require this to be visibly located within 2' of the entrance door.
A means of egress is an unobstructed path to leave buildings, structures, and spaces. A means of egress is comprised of exit access, exit, and exit discharge. A secondary means of Egress is an emergency escape opening. These ICC codes are put in place for reasons of safety. In case of fire or an emergency. To save lives. Having a secondary means of escape in a loft is a requirement. Whether the home is considered an RV or a Park Model RV, there needs to be proper egress to the outside of the cabin from the loft. Lofts that are not considered storage lofts and are clearly for sleeping must have proper egress.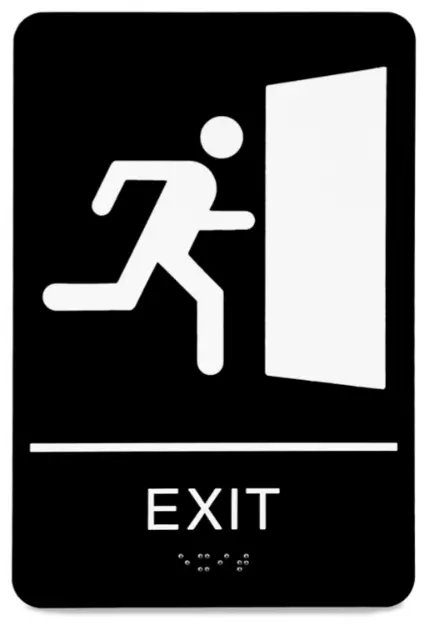 Handrails and guardrails at stairs serve different purposes. The purpose of guardrails is to protect people from falling over the edge of a platform, landing, balcony, or stair. Handrails are important safety features to assist users in maintaining their balance and prevent falls on stairs. If you want your tiny house stairs to be completely up to code, you have to install handrails for safety purposes.
Night lights will increase tiny home safety and cultivate your kids' independence. These small lighting fixtures don't produce an overwhelming brightness but are still effective in lighting a dark room. If your kids are scared of going to the bathroom at night, you can teach them to turn on the night lights. Plus, they don't consume that much power, so you don't have to worry about unnecessary energy loss at night.
Humidifiers – Humidity problems can be an issue in a tiny house, but luckily the space is small and there are options. In the winter the problem isn't having too much moisture but too little. A humidifier is a great option for adding soothing moisture to your house. Tiny House Bathroom Fans – Just like in traditional houses, the bathroom in your tiny house is going to need a ventilation fan to remove moisture, eliminate heat build-up, reduce humidity levels, and combat odors. Dehumidifiers – When summer rolls around, it's time to consider a tiny house dehumidifier. Dehumidifiers not only keep you comfortable in the summer by removing excess moisture, but they'll leave your air healthier and may even make you feel a little cooler. Indoor humidity that's too high can lead to mold and mildew issues, poor indoor air quality and can aggravate allergies. Dehumidifiers vary in size, moisture removal capacity, and features. When shopping for a tiny house dehumidifier, it's best to let your home size be your guide. Most tiny homes are going to be served by choosing a dehumidifier that can cover around 500 square feet. Portable versions are great as you can move it around whether you're about to shower or about to cook.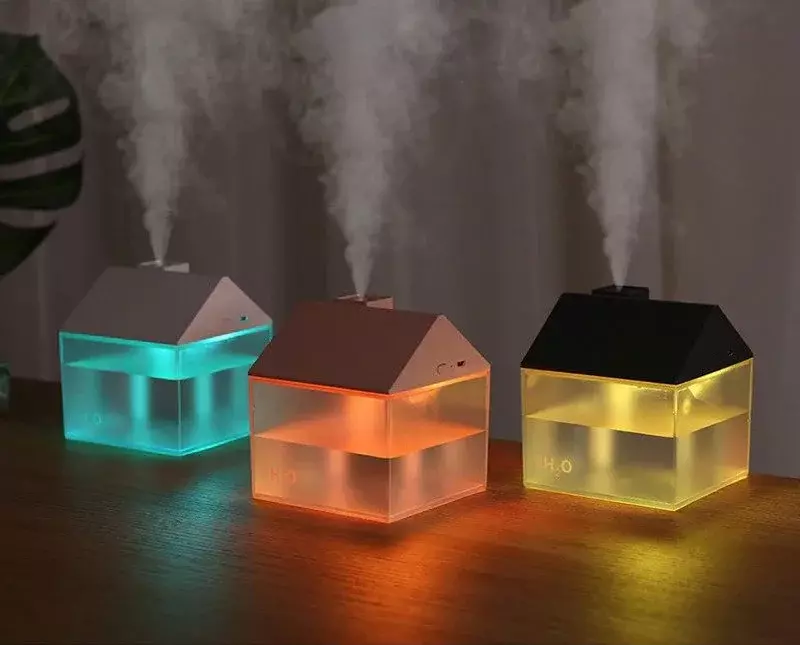 Some of these suggestions are requirements and they are in place for a reason and that is to help you feel safe. Because your home is where you should feel safe and be safe. A lot of accidents at home can be avoided, so please always take safety seriously.