16 Aug

Some Tips on Homeschooling and Living Tiny

Living tiny with kids is something many argue cannot be done, but you'll get arguments on both sides as there is a growing trend of families opting for a simpler life in favor of experiences and travel.

And, with back-to-school season upon us and the pandemic still an issue, more and more families are choosing to homeschool their kids.  Living tiny and homeschooling your children might beg the question "Can you successfully homeschool from a tiny house"? The answer is, of course you can!

Homeschooling from a tiny house actually has great appeal; with promises of continued traveling, exposure to different cultures, a variety of customs and real world learning, I'm not sure I'd ever go back to a classroom.

However, what do you do when there's bad weather or when homework involves the unavoidable worksheet or needing room to spread out?

Here are some ways to create a very functional homeschool space inside your tiny home that can accommodate your individual student's needs. Keep in mind that every student learns differently, but these tips can be applied to creating everything from a preschool area to a high school room, or a professional office to a crafting space.


Purchase Foldable Items for Your Tiny Space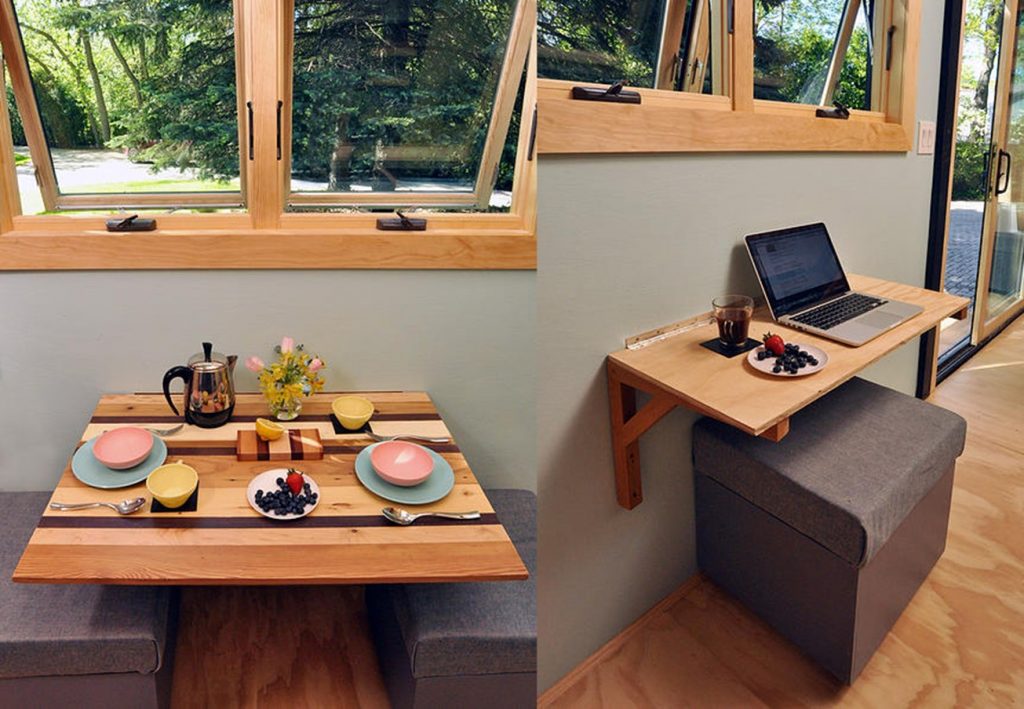 Desks and shelving can take up a lot of space in a tiny home so making the best use of vertical space is important. A wall mounted desk can save on both space as well as create a place for storage. Many of these desks have internal storage for office supplies as well as the work space.
Shelving can also fold down and back up for when they are being used or when they need to be stored to travel.
Organize the Small Things inside Your Tiny Home
Whether you choose bins, containers, or totes, small things can get lost in a tiny house so staying organized is important. We recommend using a small metal rolling cart and magnetized bins, buckets, and small containers so the inside and outside of each shelf are most efficiently used.
Visibly Separate Your Tiny Space
This can be achieved without putting up walls. You can use items like rugs and/or shelving to break up a larger open space. Use a large rug to separate office space from the kid's space. Also, open shelving that you can see through is also a great option for dividing space.
Make the Tiny Space Creative
Whether you brighten it up with colorful paint, decorate it with decals, or create a photo collage, make the space somewhere you enjoy being. Use a bright color palate, kid-friendly wall decals and maybe a globe or some plants to bring the outdoors in. Also, incorporating natural light whenever possible can make a small space seem larger.
Whenever Possible, Make your Tiny House Multi-Functional
Whether or not you are homeschooling or just living tiny, make your space multi-functional when possible. Your homeschool room could double as an office space or the bar area in your kitchen can also be used for studying while not preparing or eating a meal. Using large items such as a Murphy bed can also double as shelving or storage that can be decorative.
In closing, whether you have children or not, having an organized Tiny Home that is also multi-functional will always make for a happier space that you can enjoy!