15 Oct

THE 7 MUST-KNOW TIPS BEFORE CONVERTING A SKOOLIE

As the tiny house movement and alternative housing continue to take the real estate industry by storm, people are getting creative to find ways to live comfortably in areas that are already overpopulated and too expensive. Especially within large cities, house hunters are opting for ADUs (Accessory Dwelling Units) or school bus and van conversions so they can live mobily and affordably while staying relatively under the radar.

If you are considering a skoolie conversion, here are seven must-know tips to help before you start. With any build, through a builder or as a DIY, be sure you choose a proper certification company so you are ensured your build is safe and secure before hitting the road.
GET A SOLID FOUNDATION

Like with most things, you need to start with a solid foundation before you build. Unlike building a traditional THOW (Tiny House On Wheels), when building a skoolie you don't usually have the option to buy new. You can get a good deal by turning to places where used vehicles are sold but the best recommendation is to purchase your bus from a certified school bus dealer such as one that works with your local or state school system to retire old buses and restore them to DOT standards.
That will assure you that your bus' motor and engine components are sounds as well as that things like the undercarriage have been checked for road worthiness. Too often skoolie building companies report having to turn away potential builds because of rust damage under the bus that may have been purchased online from a wet or sandy area.
LOOK AT THE WEATHER
When converting a skoolie you need to calculate the weather wherever you plan to travel or stay parked. This will help you to decide what type of insulation to use and what R-value that insulation will need to have. Cold weather can cause a lot of problems when living in a home on wheels.
You can also save money in your conversion by choosing not to insulate the floor or ceiling, but you will need to know which seasons to be prepared for in your skoolie before cutting those costs.
CONSIDER YOUR FLOORING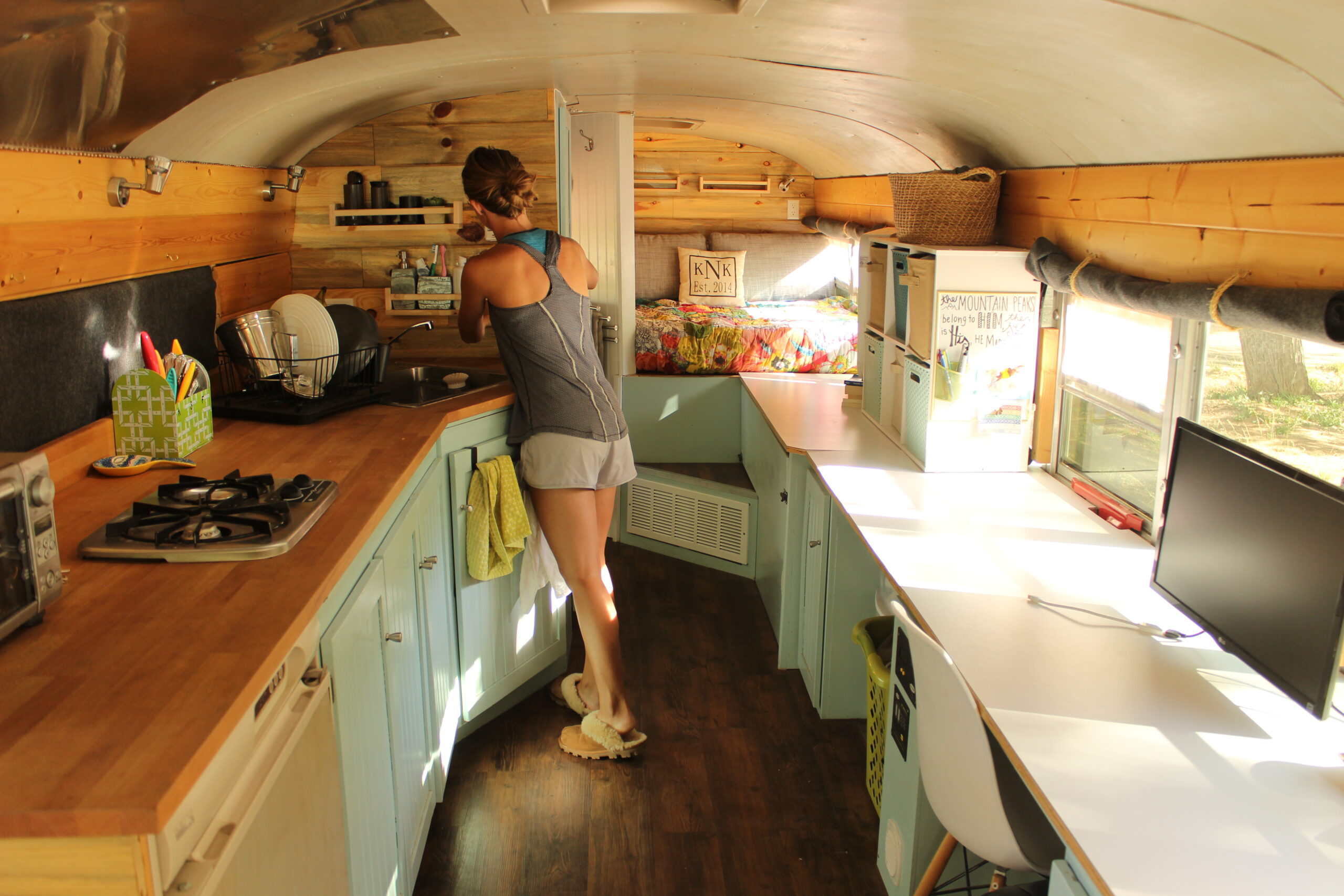 When building on a budget, many may be prone to saving money by going with a peel and stick vinyl or laminate flooring for their bus. However, builders agree that the way a bus moves when it is one the road can cause peel and stick tiles or boards to bow as the flooring jars and its temperature fluctuates. Additionally, laminate is easy to scratch with pets or furniture.
Bamboo or sealed wood floors are the most highly recommended by skoolie home conversion companies for the longevity of your build. The upfront cost is comparable and will last far longer.
ROUNDED ROOF-MEASURE TWICE
Building any tiny home is different from a traditional house build because of the size limitations. You cannot simply send a crew of 10 into a house, splitting their tasks into each room of the home. Instead, your real estate limits you to about 2-3 workers at any time inside the home.
The additional challenge posed by a skoolie conversion is the rounded roofs and wheel wells. This means planning ahead in your floor plan to leave space to cover the wheel wells with things like a custom couch instead of a toilet.
The curves of a school bus roof can cause major problems even with the most skilled carpenters. Many skoolie conversion companies recommend going back to the old ways of measuring using a framing square to ensure your floors, walls, and trim are all measuring square and level. Even the slightest measurement off can throw the entire structural integrity of a build that is bouncing down highways and over potholes as they move.
ALWAYS WEIGH YOURSELF
A common misconception of new tiny DIYers is to miscalculate or not calculate their weight at all before hitting the road. Many GPS routes will not take into consideration gross weight ratings for crossing old bridges or height restrictions for low hanging wires or overpasses.
Most buses already carry high weight ratings due to their original intention to carry passengers, however, you must include the full weight of the bus, plus building materials, passengers, and anything you add to your bus to live. Appliances and framing are the biggest places to save on your overall build weight.
PRE-CHECK AND DOUBLE CHECK
Like any long trip or hauling a load, you want to ensure that you have a precheck system in place for your lights, brakes, fluids, etc before hitting the road. Many have found themselves stranded because they failed to check things like gas, antifreeze, coolant, or radiator fluid. More have found themselves in a bind because they didn't have basic tools or quality spare tires on board when they were driving.
Finding quality diesel mechanics isn't easy when you are in unfamiliar territory traveling the country in your skoolie. Be sure to map your route ahead and utilize RV apps to help you along the way.
RELY ON YOUR COMMUNITY
The skoolie community is arguably one of the tightest knit among tiny house dwellers. From Facebook groups to meetings and gatherings across the country, the skoolie community is known for pitching in to lend a hand or offering a parking place to fellow bus-goers. Getting and staying connected is a great resource for every step from your design and build to getting your skoolie on roadworthy.