21 Mar

The SKOOLIE Trend is on fire!

Skoolie popularity is on the rise! Maybe the pandemic has something to do with this incredible growth? With shows like Tiny House Nation showing skoolies as an option to tiny living and the accounts on Instagram growing daily, skoolies are becoming desired by many. ⁠I've read lots of stories about musicians and entertainers going for the Skoolie Life during the pandemic, and they aren't the only ones jumping on the bus. Sales of the used, bright yellow vehicles, called "skoolies" by their owners, have risen in some markets as more Americans shift toward a nontraditional, more affordable and socially distanced way to live. This in turn has helped school bus companies see an increase in sales for retired, old school buses.
⁠
That's right; it's a school bus. What we once rode twice a day sitting in torn leather seats, chatting with your friend either in front or behind you, windows that got stuck half way down….They no longer ferry kids to and from school. Well, they do still do that, but now they also take everyone from young couples to entire families on adventures, outfitted with living areas, kitchens, bathrooms, and bedrooms that allow them to pursue lives behind-the-wheel. And while some folks are fine with the bare minimum, others need solar panels & electricity, composting toilets, water tanks, multiple bedrooms, and luxuries you may not even have in your own home.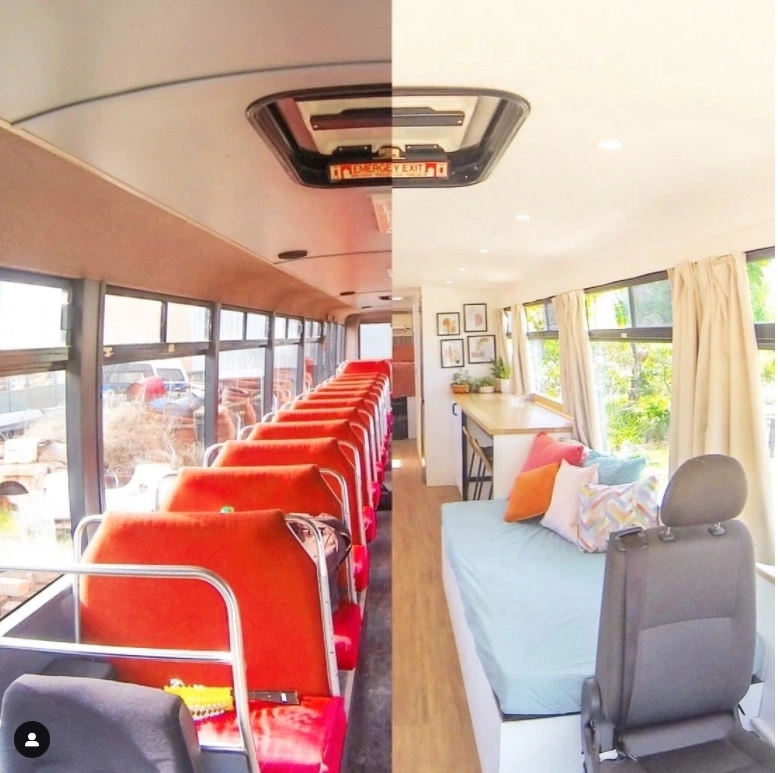 While living in a school bus full-time might be a bit of a stretch for you, maybe a road trip isn't out of the question. Cheap, sturdy, and powerful, these big rigs make for perfect camper homes and wait till you see some of the interiors! Absolutely beautiful! I mean seriously, I look at some of these renovations and I want to become a full-time Skoolie! 
How Big Has the Skoolie Movement gotten?
While it's impossible to know for sure to know how many skoolies are out there, organizations like the National Skoolie Association, Facebook groups, and Instagram accounts have thousands of members; Skoolie Nation (Facebook) has more than 40K members and Skoolie Planet, also a Facebook group, has more than 62K members! The National Skoolie Association's Instagram page has over 54,000 followers and has a high level of engagement. Events and gatherings, like the yearly Skooliepalooza in the Arizona desert, who just had their 5th annual festival hosted more than 250 Skoolies!
And just a quick search for "skoolie" on Instagram, YouTube, and other social media sites makes it plain to see: Skoolies are all the rage right now. Add to that back in 2017, a documentary film called Expedition Happiness, came out.  It's about a couple converting a school bus and driving around North America, this also brought attention to the growing trend. Quite a few more documentaries have been released since then, adding to the Skoolie movement and interest.
With their focus on DIY renovations, chic interior design, travel, and outdoor adventures, skoolies are natural stars of social media, with accounts amassing tens of thousands of followers. So if you're looking for support, advice or even a question, there's lots of forums for Skoolies.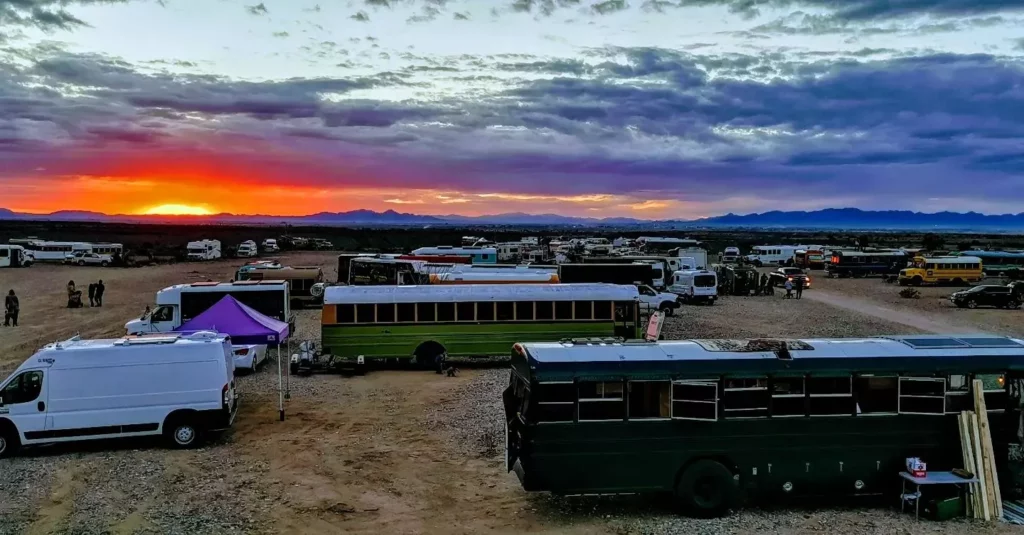 Apart from the lure of unlimited travel and adventure, there are many reasons skoolies are becoming an increasingly attractive option, one of the most notable being adopting a minimalist lifestyle. Minimalism has moved center stage in recent years, spurred by the growing interest in tiny living. Minimalism is now being embraced by a generation that's becoming more aware of their impact on the environment. Living a minimal life reduces a person's environmental footprint, as well as freeing them mentally and physically from the burdens of consumption and collecting unnecessary goods. The minimal life is the Skoolie life! 
Places to Buy a School Bus

The huge plus about renovating Skoolies is the DIY factor and that it is it's own tow vehicle. That makes it much easier to travel in! And, if you're not into doing the renovation yourself, there are lots of companies that will do the renovation for you.  
Tips for Buying a Used School Bus
Know the size and kind of bus you want.
Balance your ideal school bus with being flexible about your options.
Avoid getting emotionally attached to ONE bus.
Remember that used buses are sold for a reason—choose wisely.
Get a professional opinion on the condition of the engine.
Test drive the bus and do a thorough inspection (including the underside).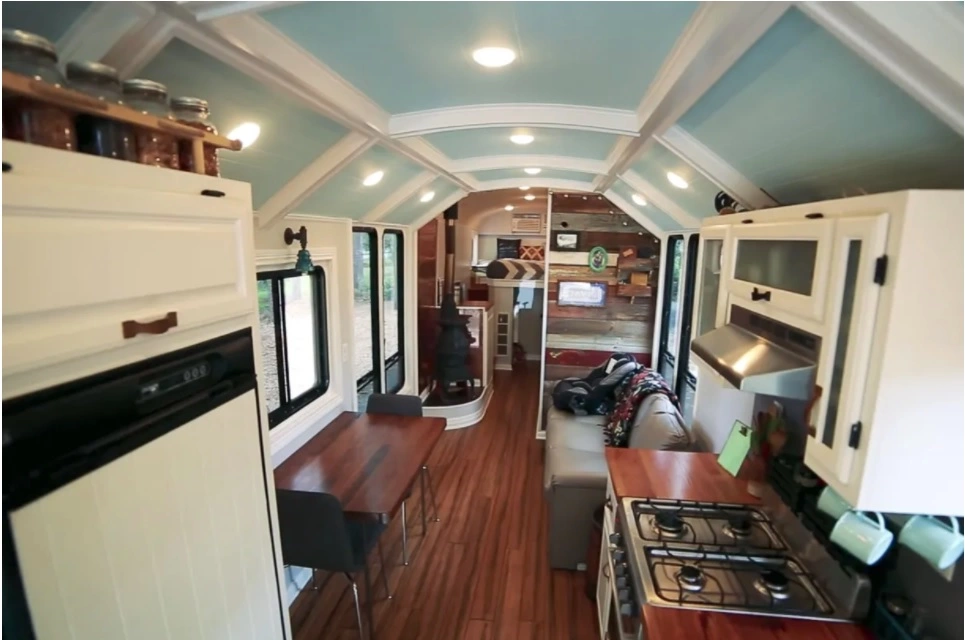 Where Can I Park My Skoolie?
There are many resources available for those looking for places to park. Some resources include: freecampsite.net, some RV parks, Hipcamp.com, Harvest Host, and more. I suggest and highly recommend calling ahead, especially the summer months.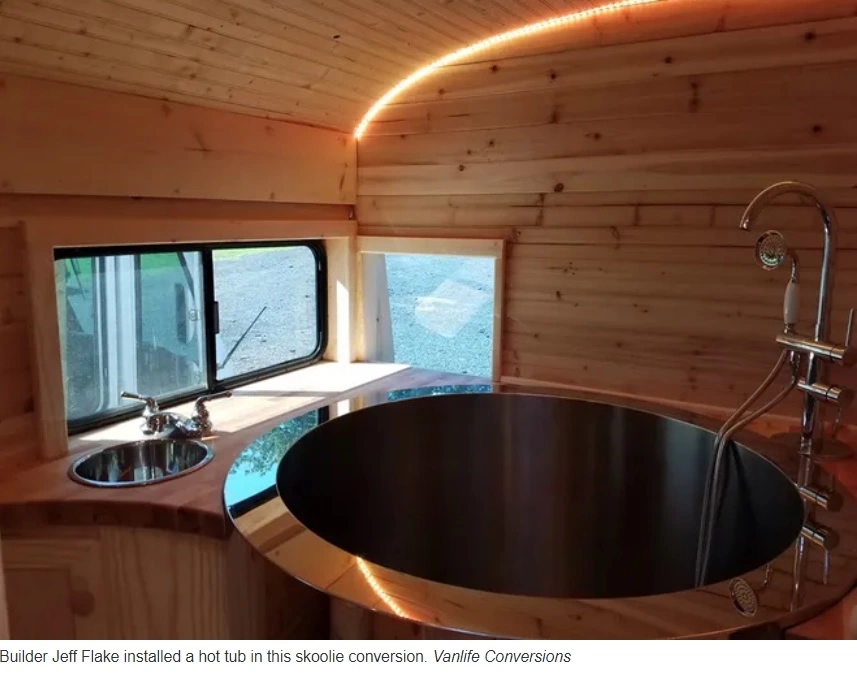 It's a good idea to do your research BEFORE diving into a purchase. Go online and get into some of those Facebook groups. Reading, planning and doing your homework is always highly recommended. 
Definitely check out things to look for such as engine, mileage, rust spots. You'll find lots of information on the subject. 
Enjoy your summer and hit the road to explore our beautiful country in the comfort of your own home (on wheels)! Skoolies are definitely a conversation starter. Converting a used school bus is a great project to explore; and be sure to budget for the most success.