22 Nov

Tiny House Design Inspiration for the DIY'er

Searching for design inspiration for your new Tiny House? Tiny House living means you'll need to find creative ways to do more with less. But it can be done! Check out some of these design tips to get you started!  

A very, very popular tiny house living storage idea is to use the space under the stairs. Build open cubbies and store decorative items, books, hats, and more. Or add doors to discreetly tuck away shoes, clothes, and other everyday items.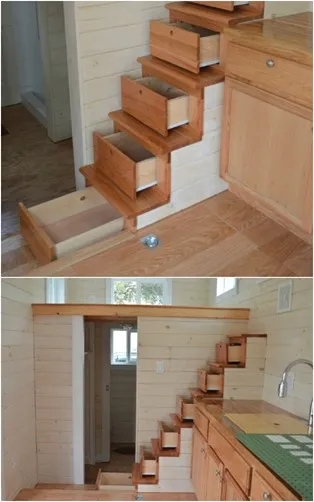 Plants are a much-needed staple of tiny home decor! Hang greenery from the ceiling, mount plants on the wall, or place succulents in otherwise unused areas to add pops of color and keep the air fresh. This is also a great way to start an indoor herb garden! Plants can help rejuvenate your interior whatever size or style of personal space you have. Not only do they exude a lively atmosphere, they're also a good source of fresh air in your home.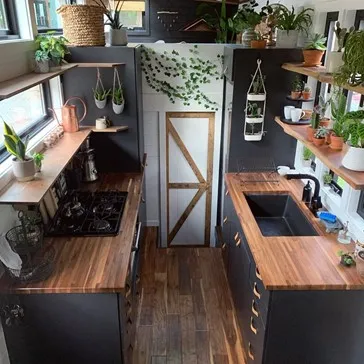 There's a reason why light paint colors are so popular in tiny home interiors. Neutrals like whites, grays, and beiges help rooms feel airier and larger than they actually are because they reflect light well. While bold colors or wallpaper might be your design taste, use these with caution, as overly bold designs can make your home feel cramped or cluttered. Light colors make a space seem bigger, while dark colors make a space seem smaller. Choose white or light-colored finishes for the ceiling and walls. (The floor color is less important for this purpose).
For some people, environmental sustainability is what draws them toward tiny home living. If that's the case for you, try to use as many reclaimed or refurbished items as possible. From treating and staining salvaged wood for countertops, flooring, and stools to adding textures to walls with shiplap, look for creative ways to reduce and reuse building materials!
Include Small Patterns & Pops of Color
A key tiny house decorating idea is to mix it up. Although you don't want to have too many competing patterns and colors, don't miss an opportunity to show off your personal style. A fun backsplash in the kitchen, a bright accent wall in the living room, or unexpected tile in the shower are all ways to get experimental with design without going overboard.
Just because you're downsizing your living space doesn't mean you have to give up all of your beloved possessions! Your bookshelf might need to shrink some, but you don't need to give away your favorite reads. Display your books on a floating shelf, or create a DIY bookshelf that can fit in otherwise unusable spots in your tiny house.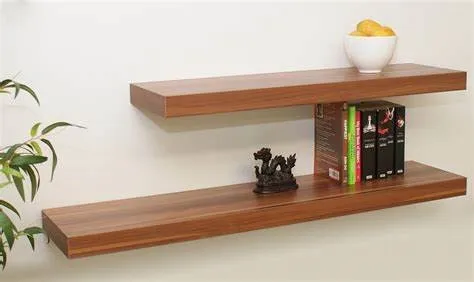 Finding ways to bring more natural light into your home is important. In fact, one of the top must-haves people look for when buying a new home is the presence of an open floor plan that allows plenty of natural light. Natural light and sunshine have so many positive effects on our mood and our health, and that translates into our homes.
Your home will feel more spacious, cheerful, and welcoming.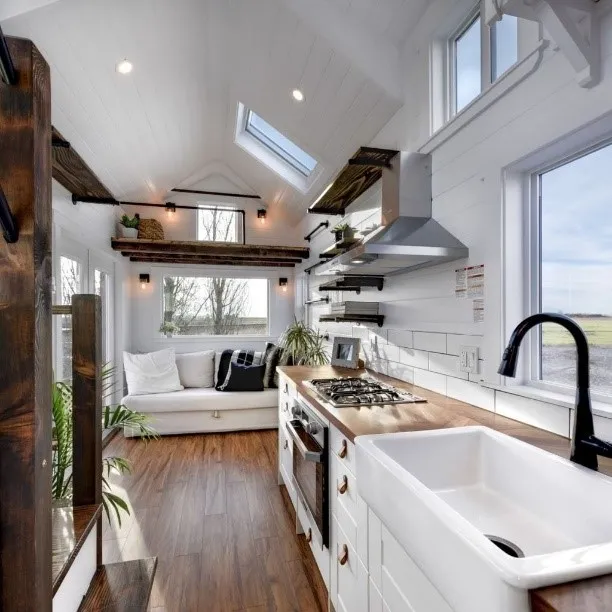 Want to create distinct rooms, but don't want to use up all your space? Try sliding doors! Pocket doors and rolling barn doors don't take up a ton of square footage, and they add some style to your home. This popular tiny house decorating idea is a perfect way to enclose a bathroom or bedroom.
Remember that the outdoors are your playground! Some of the top design ideas for tiny homes are those that maximize your outdoor living spaces. Adding a large deck, installing windows that open outwardly, and I mention again, decorating with plants are all unique ways to enjoy nature at home.
A few more design thoughts….
Don't double stack your storage – meaning if you need to move 5 things to get to the item you need, that's not helpful. Focus on the storage necessary and group like items together. Really examine what you use and how you use it!
Fold and store your clothing in sets. For example, early in the morning you get out of bed to go walk the dog. Instead of pulling a shirt from one drawer and pants from another, try folding your clothes in a shirt/ pants combo. Open the drawer in the morning, pull out the first set, put it on and get going. It's easy because you took the time to plan ahead when you fold your laundry.
Mirror, Mirror On the Wall
Hang a large mirror, and you've instantly doubled the visual size of your space. Use your creativity. Make a whole wall a mirror. Even better if you can place it opposite of a window. This helps bring the natural light in.
Open Shelving for Small Kitchens
Forget bulky-looking cabinets, let your kitchen interior breathe by opting open shelving instead. Not only will you make your kitchen area look more spacious, you'll also enjoy the convenience of easily reaching out your kitchen items without the hustle in constantly opening cabinet doors.
We all have one — a weird corner that you don't quite know what to do with. When you try, it either looks like a cluttered, half-thought-out mess, or when it's bare, you can't help but think of the wasted space. Turn it into a prime spot for toys… create seating… add shelving.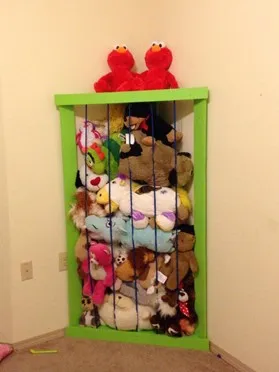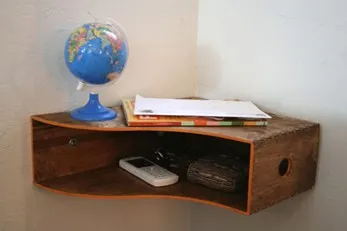 With Tiny Home living becoming increasingly popular, there are lots of ideas out there for designing your home the way you want. Pinterest has become a great source for ideas on all things tiny. I hope the above tips have helped you and have given you some ideas to get you started with how you want to design your tiny home & have fun doing it!