21 Sep

Dogs, Pets and Living Tiny

You love dogs or have a fur-baby and you think you shouldn't go TINY because of them? Don't let that stop you from making the change to Tiny Living! There is a lot to think about when you are going tiny including downsizing and pairing down your things, but your fur babies do not need to be one of them. There's lots of people that live tiny with not only small animals but larger ones, too. Your fur baby is part of the family, whether they are tiny or not. And most of us would change the way we live our lives to accommodate them.

When it comes to tiny houses, the size of your pet doesn't really matter as much as the personality of the animal. For example, Great Danes are well known for their laid back persona, but they might be a little on the big size for a tiny home, although I've seen it work in some scenarios for these couch potatoes. An Australian Shepherd is a comparably small dog, but they'll drive you crazy in a tiny space because they are bred for herding and need a lot of space to run. As far as living tiny, the size of your fur baby doesn't really matter.  A large dog can live fine in a tiny home as long as you give them outdoor time and regular daily exercise during the day.

You might have to sacrifice a little storage space for your fur-baby, but they will be happier to have their own space in the long run.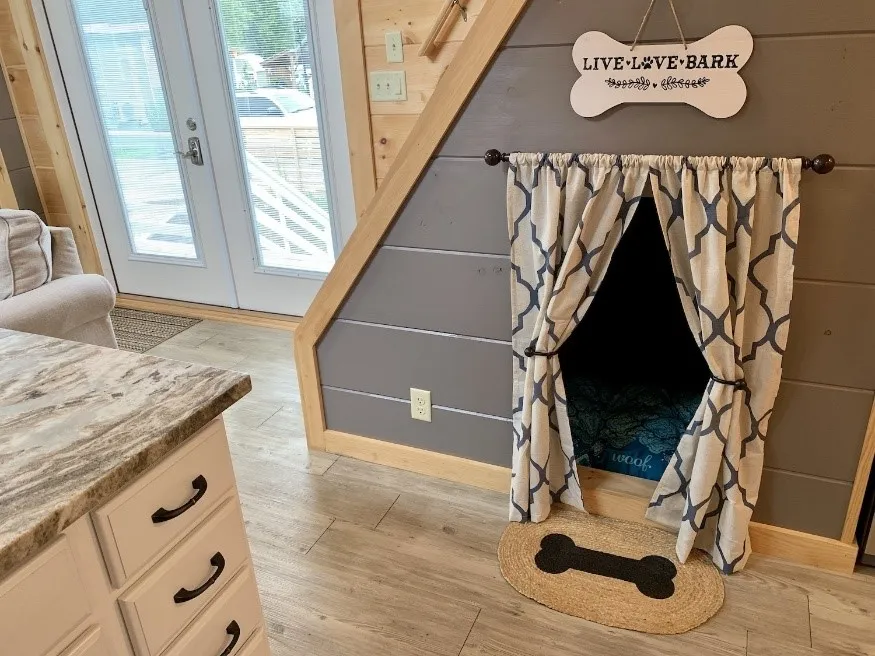 We know dogs love being outside! Tiny House people seem to be to be outdoorsy type people and if you are a dog lover, this won't be a problem.  The best tiny houses for big dogs are those that come with plenty of land for your pup to play on or even those that are closer in proximity to hiking trails. The more your fur baby can exercise and interact throughout the day, the better. They may feel freer and less bored than they would in a normal-sized house. Having a larger outdoor space also helps your dog get their energy out before and throughout your workday. Working from home is an ideal scenario for big dogs, particularly ones that can become bored easily. Setting up a work space outside equipped with a comfortable table, an outlet, and sun protection can help you reconnect with nature and breathe in the fresh air while you work. All the while, you can keep an eye on your playful pup to keep them out of harm's way. Of course, depending where you are and what time of the year it is.  In Florida in July, that wouldn't quite work as well. Also, you could consider a collapsible and portable run, dog houses, or even fences that you can set up to keep you from herding cats at the end of the day. Just remember to give your furry friends some shade on a hot day, while keeping them well hydrated.
Another challenge might be how to keep them contained while you're out. There are different options if you're not wanting to confine your dog in a crate. Check out the Retract-A-Gate — Retract-A-Gate Made in USA • Retractable Safety Gates for a Baby, Dog, or Cat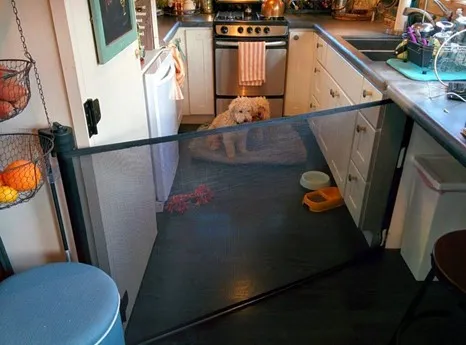 Pets, dogs, and cats or whatever your choice of furry animal may be, they do love us unconditionally and enrich our lives. (Not sure this holds true for cats) And even after we've cleaned up after them all day, we can't deny that they are an amazing addition to our tiny families. They make us laugh, they make us appreciate the little things in life. I smile as I type this as my dog jumps up onto my lap for a little love.
Dogs and Pets Feel Stress, Too
Once you're all moved, a few things to think about: – familiarity helps reduce your pet's stress level when downsizing. Something as simple as keeping the same feeding and walking schedule they are used to helps assure them that even if their environment has changed, their routine hasn't. Another tip: if there's anything you can hold off on cleaning during the move, preserving some scents from your old house can also help ease any feelings of homesickness.
Your list of concerns can be long and it's worth taking some time to explore solutions and put your mind at ease. With a little preparation and management, you can help your furry friend love your new home as much as you do. So, fear not, downsizing with the family pet doesn't have to be stressful for you or your fluffy one.. With these considerations, tiny house living can be a great fit for a variety of pets.
Now a Little Cuteness Overload