07 Feb

Main Floor Living: The Tiny Trend to Go Loft-Less

As the trend toward alternate housing continues to swell with the rise in cost of living, more than millenials are looking to live in less than 400 square feet. Tiny houses began their ascent into mainstream media over a decade ago, but until the real estate crash, the movement remained underground.


With more and more age groups searching for flexible and affordable housing, tiny home builders are looking to loftless living as a possible solution for families and retirees going tiny.


Traditional tiny homes on wheels, or THOWs, became the most popular type of tiny because they offered affordability, a small environmental footprint, as well as ease of transport as their foundation was set on a chassis with wheels. However, most averaged in the 100-200 square foot range with bedrooms in a small lofted area above the kitchen or living space.


For most people who are retiring and looking to travel or save on living expenses, a ladder to their bedroom just isn't practical. Others starting families and looking to keep costs down and increase experiences for their kids love the idea of tiny house lifestyle but need the safety and security of main floor living.


These reasons and others have spurred a growing trend to lose the ladders and point people toward bedrooms on the first floor of their small home.


To consider your options, weigh these pros and cons of loftless living to see which is right for your tiny house build.

Lofts Increase Growth Opportunity but are Short on Safety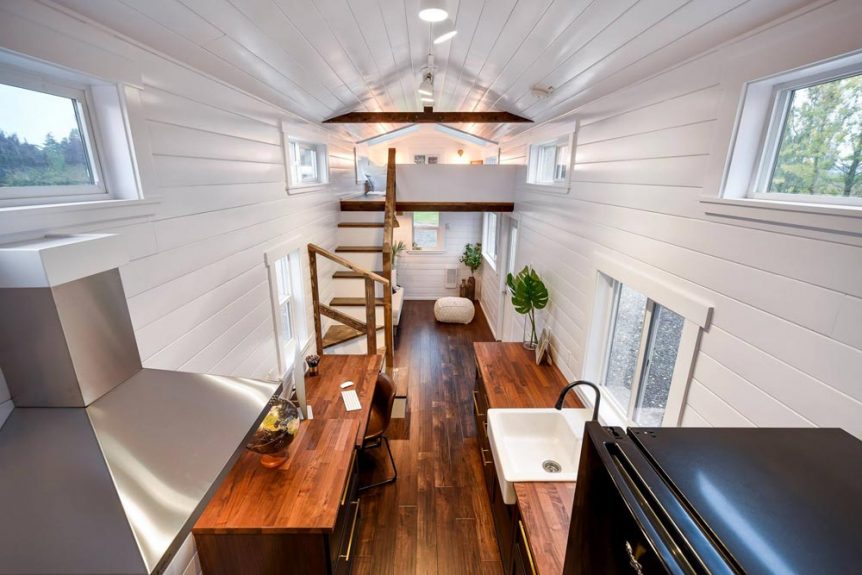 For growing families or couples and retirees wanting room for guests, lofts can accommodate room for growth. Whether you wanted to add a couch that converts to a guest bed and use the space as a living area by day and guest room by night, the additional floor space offers a lot of opportunities.

The drawback to having your guests sleep upstairs as opposed to on a pull out couch on the main floor is that some guests may be unable to navigate a ladder or steep steps. In these cases, you may need to offer up your main floor bedroom for guests and take yourself up the stairs for the night.

You Lose Headroom in a Loft but Gain Real Estate
Most tiny house lofts aren't more than 4ft tall, floor to ceiling. This is typically enough space to place a mattress and leave some space above or to stack things being stored. A common con to this space as living quarters is that you have to bend down and crawl in and out of it. While it may work for kids, it becomes more difficult with age.

If you don't mind crouching down, a loft can add an additional living space, guest room, music space, or more. Some lofts are being made on suspended cables that can be raised and lowered to increase the headroom when necessary.
Ladders and Stairs aren't Secure but You Sacrifice Storage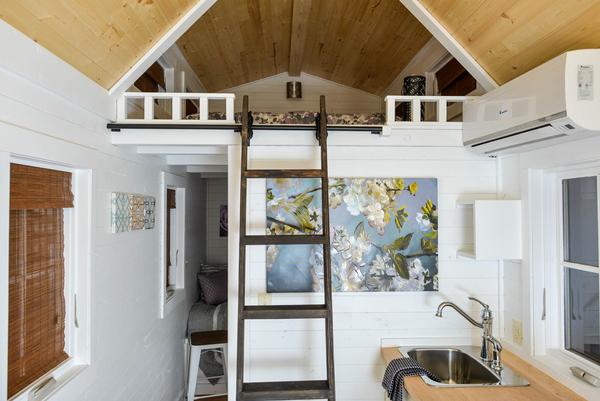 Many tiny house ladders are made of piping or heavy wood. Stairs, many find, are a safer option for climbing and some even boast storage in their steps. However, those are typically bulky and take up a lot of valuable real estate when your overall footprint is only a couple hundred square feet.

Mobile or removable ladders must be secured each time of use and also need a secure way to stow them when the tiny is moving.

If you lose the loft, you are deciding against an additional 40-100 square feet, typically. This could be used as living spaces but many choose to store off season gear and clothing, holiday items, or instruments in their loft space. Giving this up can pose a challenge for where to stow away your stuff.
No matter which direction you take your tiny house build, you want to be sure to try different floor plans first to be sure you choose what best suits your individual needs. When considering hiring a builder or doing a DIY, be sure you are consulting the experts so your tiny is built safe and ready for the road. Check out helpful hints and resources by following us on Instagram and joining the conversation on Facebook!