13 Dec

"Tiny" Home for the Holidays – Ideas on decorating your Tiny Space

The key to decorating a tiny home for the holidays is the same as living in one: less is more, and with these ideas, less really can be enough. Even a little Christmas can go a long way in a tiny home.

Here are some ideas to help Tiny Housers get ready for the holidays:
You don't have to spend a lot
I think back to when I was a kid and we had red bins galore filled with Christmas décor. Decorating was one of my favorite parts of Christmas.  Brings back memories, but the good news is, Tiny Housers don't have to spend a ton of money to decorate for Christmas. Each year, do something different – purchase a little, then donate to a charity. That alleviates any storage issues.
From holiday hand towels in the bathroom to decorative kitchen items, spreading your festive feelings throughout your small space makes the entire home feel like Christmas. The spirit of the holiday shouldn't stop with a tree. I love pulling out my Christmas hot pads and dish towels for display. Hang a holiday mug, put a decorative cover on the wine bottle, and bring out the holiday napkins. All of these tiny touches will add a touch of holiday spirit throughout your tiny home.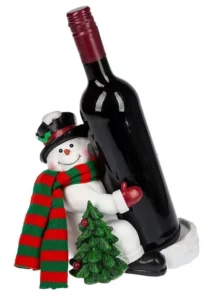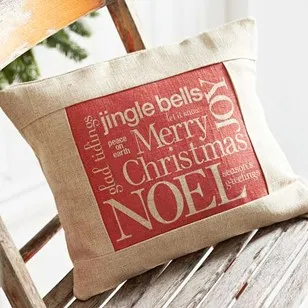 There aren't very many large surfaces in a tiny home, and what little does exist is usually reserved for everyday chores like cooking or drying dishes. Hang garlands around doorways, wreaths on doors and seasonal signs on the walls.
Alternative Christmas Trees
Artificial trees come in all sizes including skinny, pencil trees and ones made to tuck into a corner. I found some space saving, pretty cool ideas on Pinterest.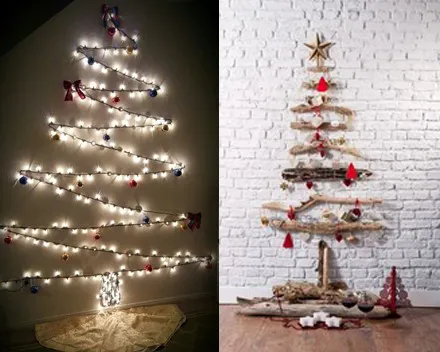 And, tabletop versions of Christmas trees are always an option. You could even buy a small potted tree that can be planted later in the spring.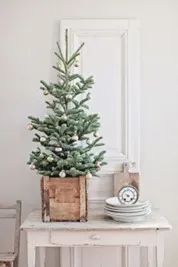 One of the quickest ways to create a festive tiny home is with twinkling lights. White lights can do double-duty and be used for patio lighting in warmer months. And the best part is, a few go a long way, so you avoid the frustrating, not-fun tradition of untangling lights. You can literally cover the whole house with just four strands.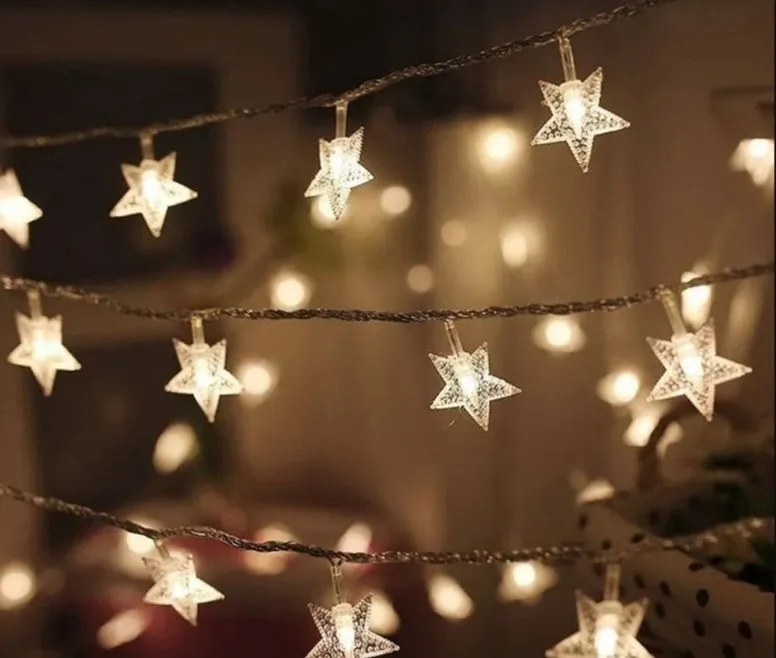 And let's not forget that overlooked area of potential decorating real estate – your ceiling! Hanging ornaments, paper crafts, or garlands can make your tiny house feel extra magical.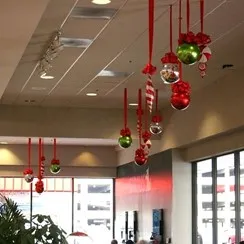 You could even put some branches in a vase – decorate them with ornaments and voila! Hang string lights from the ceiling, frame a mirror, mantel, doorway or other objects. Weave lights in and around your plants. Use every inch of usable space for decor including sides of furniture, walls, ceilings, windows and window sills and your space won't feel cluttered.
Hosting a Holiday Party in your Tiny Home
You're a new Tiny Houser who loves to entertain but you might not think you still can.  Well, you're right, no one wants to be squeezed into a tiny space with tons of other people. One solution would be is to plan to sit outside if weather allows. Create an outdoor space that people will be attracted to. Make the best of the small space and the most of the outdoors. Always have a Plan B in the event of foul weather (even when the forecast calls for no rain). A simple canvas canopy can fit several partygoers around a beautiful dining table — or over a fire pit.
Tiny Living has become very, very popular in the last decade, so don't fret. This means there are always trends that will teach you how to host anything from an elegant dinner party to a bonfire outside in a space meant for two.
With that in mind, a few things to consider:
Don't serve a full meal – If you live in a tiny space, you're setting yourself up for a major headache if you try to host some sort of elegant, sit-down holiday dinner party and plan to invite more than a few guests. Save yourself some serious stress by sticking with an appetizer, cocktails, and dessert spread.
Use Drink Containers – Instead of choosing bottles and cans that will take up places on tables and countertops, opt for drink-serving carafes to save room in coolers or in the fridge, as well as saving on waste.
Leave Out Your Cutting Board – These are so much more than a kitchen tool, as their beautiful designs have graduated to décor. Use this to both cut veggies, cheese and fruit, as well as to serve it to guests. A large Charcuterie board is so popular these days!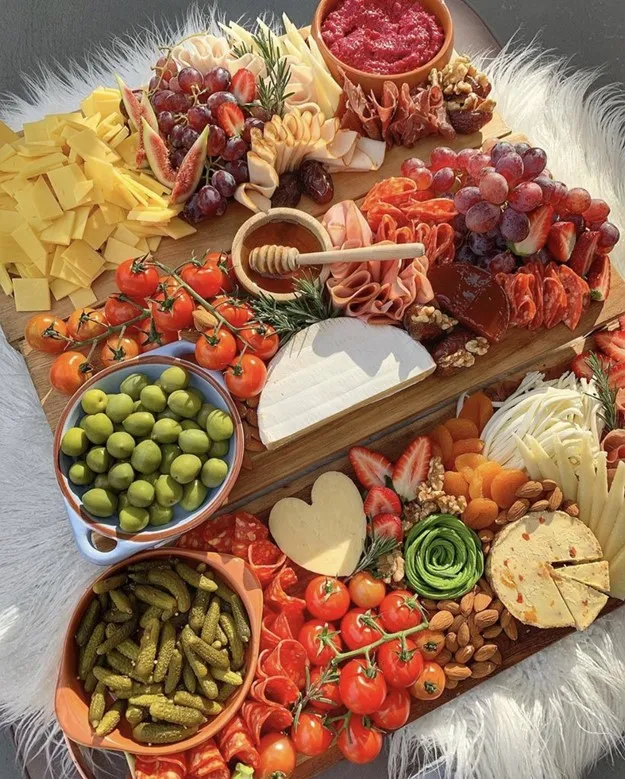 Don't stress!  Be jolly, jolly! Feed your guests great food and some fancy holiday cocktails and you'll be good! Do not worry about having too many guests in your small space. It's the holidays, and your guests will enjoy being out and about for a change! Besides, you will be creating lasting memories with family and good friends. Happy Holidays!