11 Oct

Tiny Home Offices: Ideas for Creating a Workspace in a Small Place

Because of the pandemic, working from home has become quite a popular thing the past year and a half. I'm sure a lot of folks already had some type of office set up, so it was not too hard to adjust. And, while some companies have had their employees come back to work in the office, I have read that a lot of companies have decided to allow employees to continue working remotely on a regular basis.  This is great for some folks that have the space, but if you have limited space or live in a tiny home, this might be a bit of a challenge. 

And yes, it's possible to fit an office space into a tiny house! You just have to be space-smart and creative. Just because space is short, that doesn't mean you can't create a home office space that's suited to your needs. Set up correctly, anywhere can become a center of professional excellence and achievement. Whether that's an alcove in a living room, a dressing table that doubles as a desk in a bedroom, or even a drop-down desk in a hallway.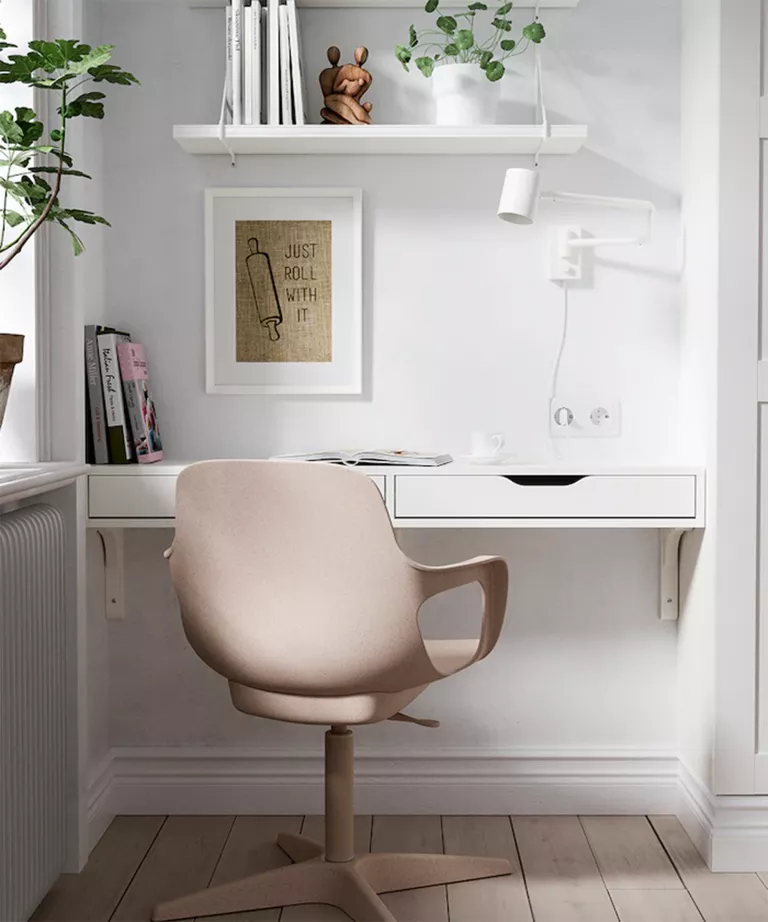 Finding room in your home that you can transform to an office is definitely possible. Alcoves are often dead spaces that can be used for so much more than just storage. 
Be inspired by this small home office idea and turn an alcove into a workstation. All you need is floating shelves for some handy office storage (and decoration) and either a compact desk that will fit neatly in the space or a slightly deeper shelf you can use as a desk. If you do opt for a floating desk, add some extra drawers underneath to really make the most of the space and make it feel more like an office by adding a pinboard and other practical office accessories. Also, ensure your measurements are right to fit a desk and comfortable office chair, as you'll be spending most of your day there.
Closet + Office = Cloffice
Cloffices, as the name suggests, is an office with a closet. The concept has become very popular in 2021.  Closet office ideas can work really well if space is tight. If you don't have the luxury of a whole room to work from, these tiny spaces can be carved out of your current space and functional workspace that doesn't have to double up as anything else.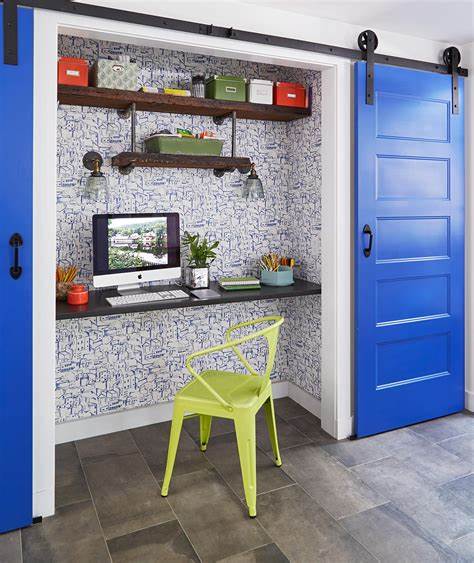 One of the smartest ways to create an office space is to simply use a wooden shelf. A shelf placed under a window creates the perfect spot for work. This cozy nook by the window has been transformed into a dedicated work station with a streamlined, curved handmade desk to maximize the space – simple but brilliant.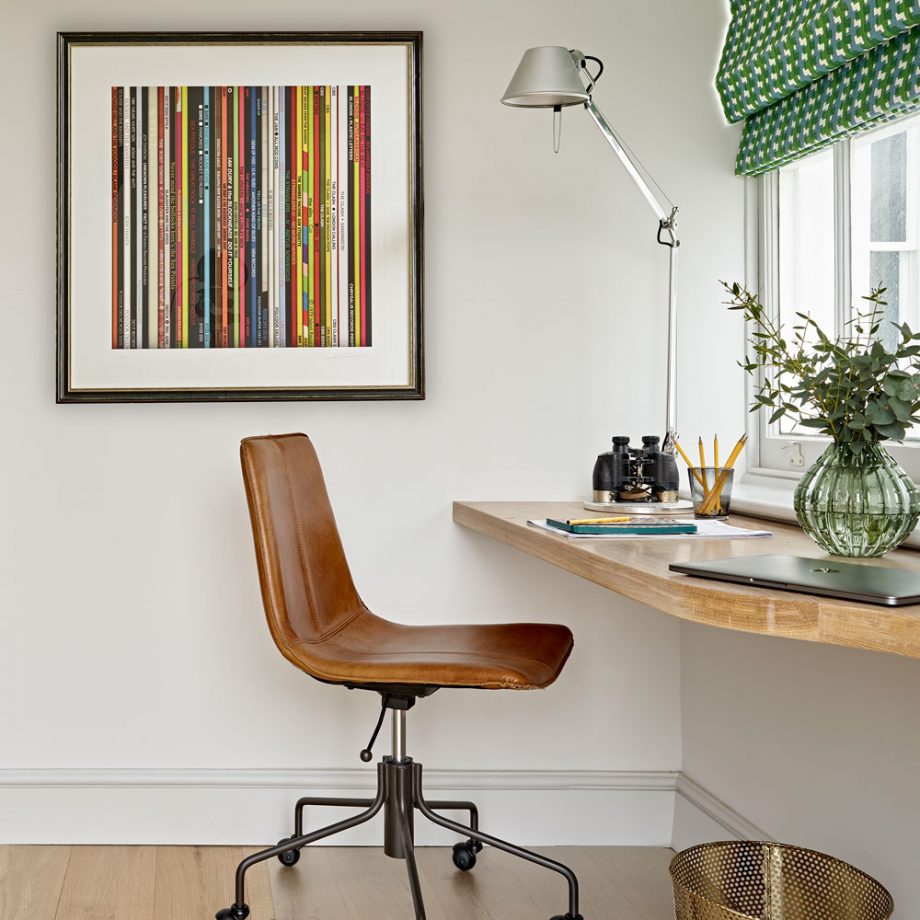 A drop down desk is very popular for Tiny Housers working from home and are perfect for compact spaces. Not only do they maximize square footage by neatly folding away when the room is needed for other tasks, but they also allow even a cozy corner to be turned into an effective home office.  Fold-down desks are perfect for any small-space situation, whether your house is tiny or the home office itself is lacking adequate room. Plus, closing up your desk for the day will be like closing up shop; when I work from home, I found it too easy to keep checking email, etc. It's great to be dedicated but don't overdo it.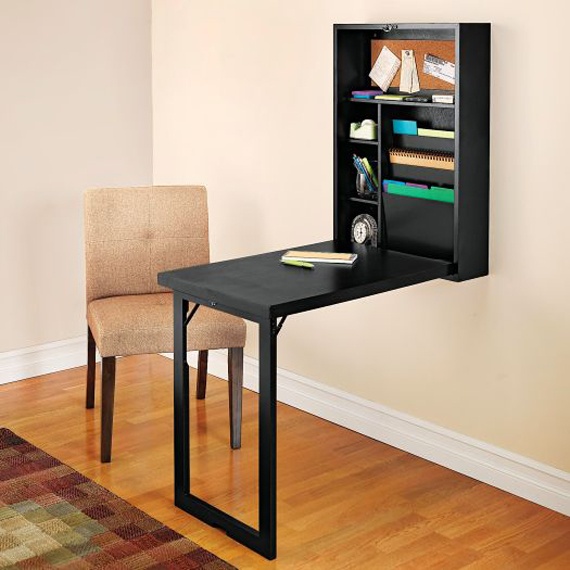 Did you know the color green inspires productivity? I'm not saying paint your entire space green, but you could add some plants to your area, or even pictures of plants inspires calm. The color green represents balance, harmony, nature, and restoration. It doesn't require your eyes to adjust, making it an excellent option for offices where employees work long hours. Green is harmonizing and, unlike red, does not strain the eyes. It strikes a nice balance between the other primary colors and creates a sense of calm and reassurance. This is particularly helpful if you feel overwhelmed by all the tasks you need to complete.
Space saving ideas for tiny home office storage help create comfortable and neat work stations. Keeping your workspace nice and neat makes your feel better about your space and it's easier to work in an organized area. Attractive and convenient built-in shelves and simple wall shelves, cabinets and desks with storage are helpful in making your work efficient. Creative storage ideas, various shapes and forms, different colors and textures bring interest into home office design.

Another tip to save space and have less paper is to store your account information, files and documents online. Instead of having paper bills mailed to you, have the bill emailed to you and make online payments to reduce the amount of paper in your mailbox. For tax documents and other important information that you need to keep for a long period of time, it's a good idea to store a copy online. Use a scanner and upload the information into cloud storage. Consider a backup as well. Not only does this provide you with a safe method of storage, you can also access your documents from anywhere there is an Internet connection.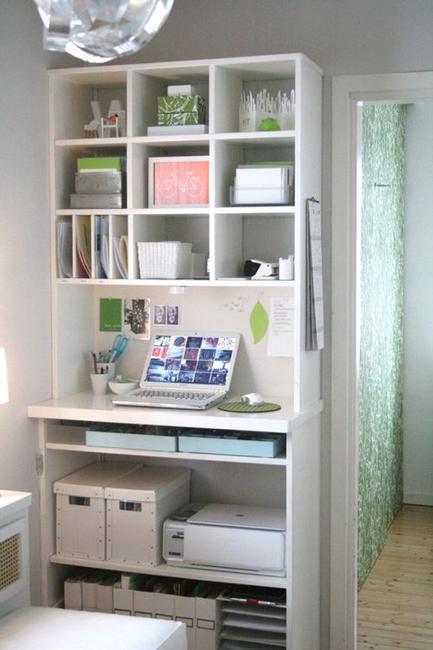 Hopefully some of these ideas have inspired you and helped you realize that you CAN have a Tiny Home Office. No more sitting on your couch with laptop in your lap. Enjoying your home office and having a cozy place to work even from home is important. You don't have to feel cramped just because you live tiny. Take your time and check out these ideas. You'll be happy and productive going forward!