09 Oct

Tiny House Hotel
Tiny House Hotels with Big Personalities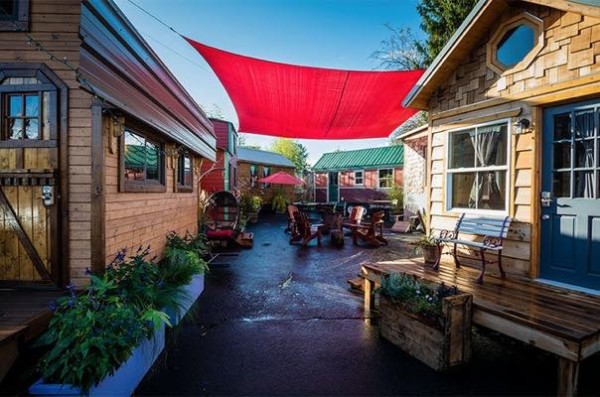 Image Credit: TinyHouseTalk.com
The Tiny House Industry is booming, this fascinating and alternative way of living continues to be a subject of interest with people from coast to coast. The Tiny House concept has grown so much that it's actually branched out to Tiny House Hotels!
Your experience at a Tiny House Hotel may become an excellent deciding factor on whether you decide to go Tiny or not. If you stay a night or two, and absolutely love it – you might consider living Tiny full-time. And that's what these Tiny House Hotels are here for – to satisfy your curiosity.
But they are seemingly taking it one step further by giving these Tiny Houses their very own personalities!
Let's take a closer look at some of these uniquely designed and engineered Tiny Houses. Their meticulous details and personalized themes are truly extraordinary!
1. Beach House at Tiny Digs Portland Hotel
This Tiny House has got the beach theme all figured out – equipped with a beach themed loft, a boat prism in the bathroom, and everything else in between. My personal favorite is the glass sink in the bathroom which encapsulates beach sand, seashells, and sea glass. This Tiny House beach décor definitely makes you think the ocean is nearby – or maybe right outside your window!Check out the rest of the Beach Tiny House.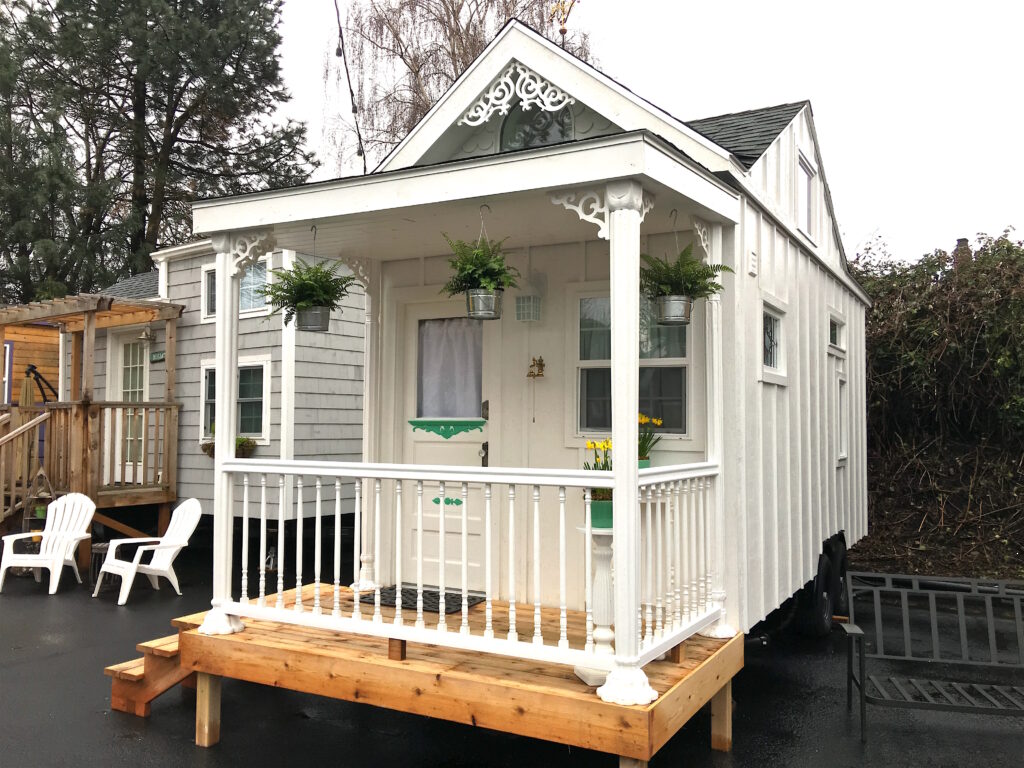 Image Credit: TinyDigsHotel.com
2. Pacifica Tiny House at Caravan The Tiny House Hotel
An admirable quality, Pacifica, also known to the builder as Zenia, is intended to be wheelchair accessible – with supporting hand rails, an entry way ramp, and a 10′ width for maximum space. Another wonderful quality I love about Pacifica is the custom stained glass in the entry way, combined with the whimsical lines of the cedar exterior is reminiscent of a Hobbit House on wheels. It is just breathtaking!
Check out the engineering process here.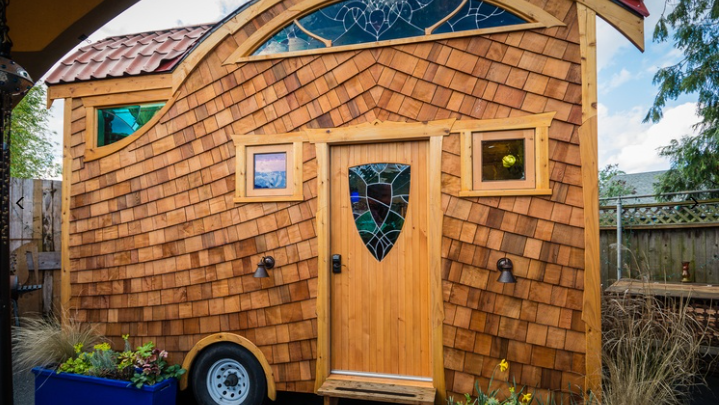 Image Credit: ZylVardos.com
3. Barn at Tiny Digs Portland Hotel
The Barn Tiny House has so much detail, ranging from the Dutch Door System to the Gambrel Roof implemented loft. This Tiny House has got special touches all around such as mason jars used as light fixtures and recycled palettes used to create an authentic barn-style sliding barn door. But what I love most about this Barn Style Tiny House is the old gin wooden barrel that's used as a vanity in the bathroom!
Another cool feature in this Tiny House is the table. Upon first impression, it looks like art – but it actually pulls from the wall and unfolds into a usable table. Clever thinking!
See if you can spot the Barn Art Table Conversion Here.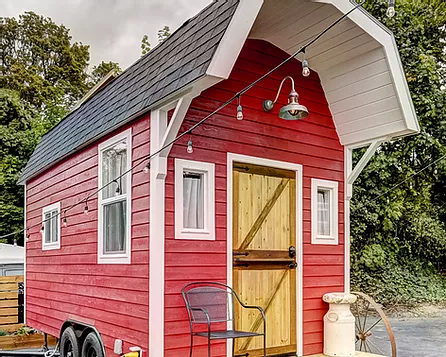 Image Credit: TinyDigsHotel.com
4. The Hobbit House at WeeCasa
This Tiny House just screams, "Imagination!" It's creative, quaint, playful, and earthy, all in one. You simply can't look at this Tiny House and not notice the circular front door. I for one would like to know how it feels just by walking in! The shingled style and ivy covered exterior completes the whimsical look of this Tiny House.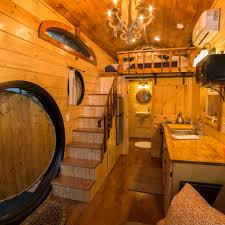 Image Credit: WeeCasa.com
5. Bamboo at Tiny Digs Portland Hotel
The Bamboo Tiny House is truly genuine. According to the family that built it, the walls, ceilings, and stairs are all covered with grass cloth, made of Bamboo fibers. Even the flooring and rain gutter is made of Bamboo. Can you say Bamboo everything?? This lovely Japanese accented and inspired Tiny House has made good use of the Bamboo plant, and if I may say so, in all the right places!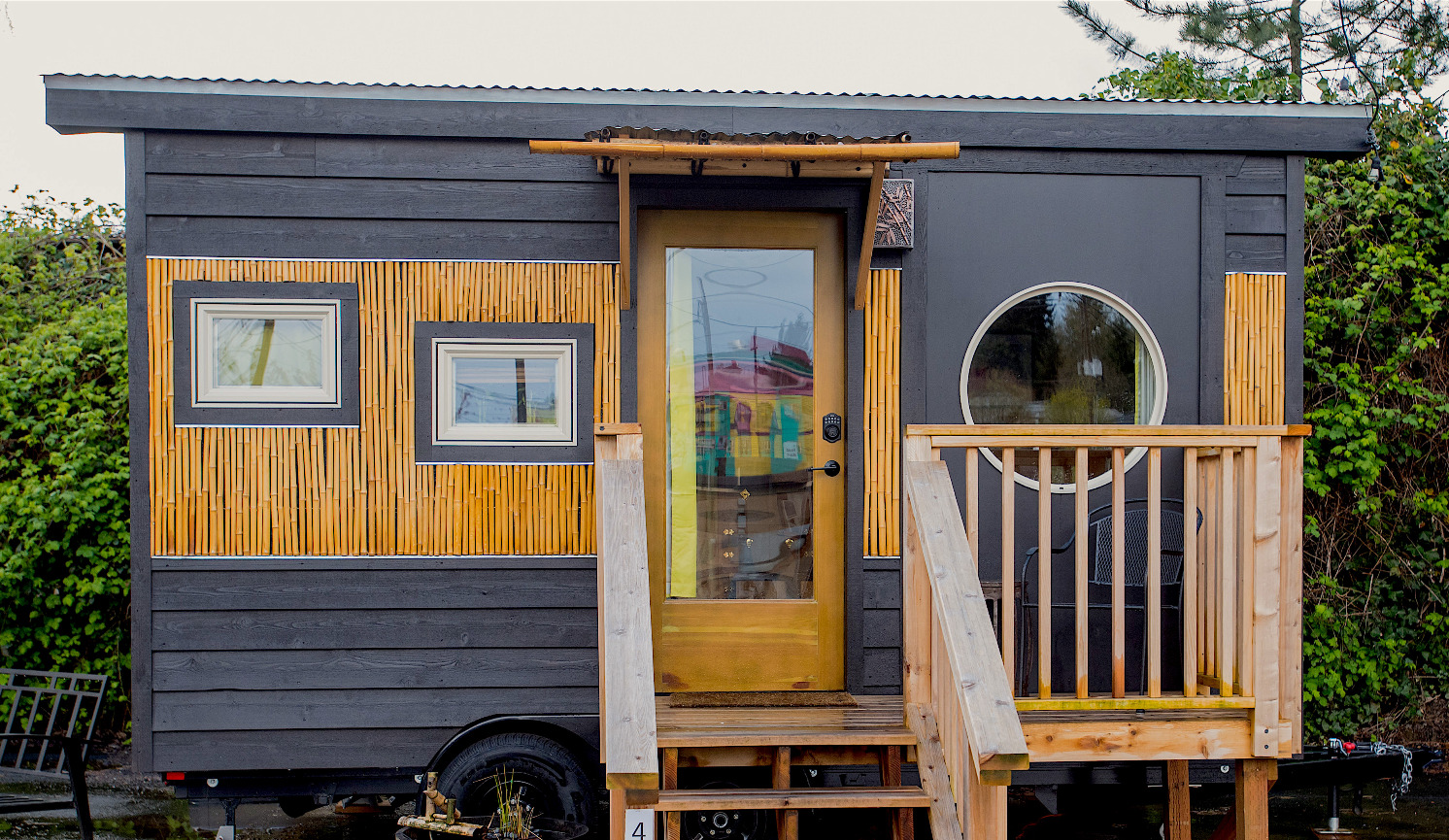 6. The Pequod at WeeCasa
The Pequod is definitely a unique and exceptional Tiny House inside and out. The Tiny House stands out with its unique roofline, bold blue color, and exterior swirl effect. However, the most interesting feature of this Tiny House lies inside the home: the welded steel, plexiglass covered catwalk that connects one loft to the other.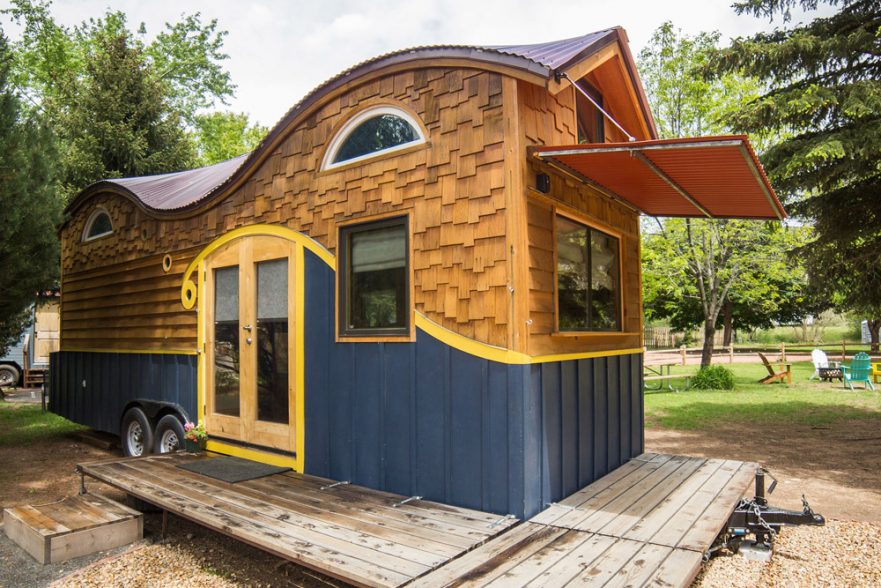 Image Credit: WeeCasa.com
7. Gypsy Wagon at Tiny Digs Portland Hotel
The Gypsy Wagon was clearly constructed with free spiritedness in mind! The vibrant colors in this Tiny House give it the extra "wow" effect. I see this Tiny House and I instantly admire its freedom, its style, and how it just says, "I'm a traveler, I go as I please." I give the Gypsy Wagon two thumbs up for its beauty and individuality!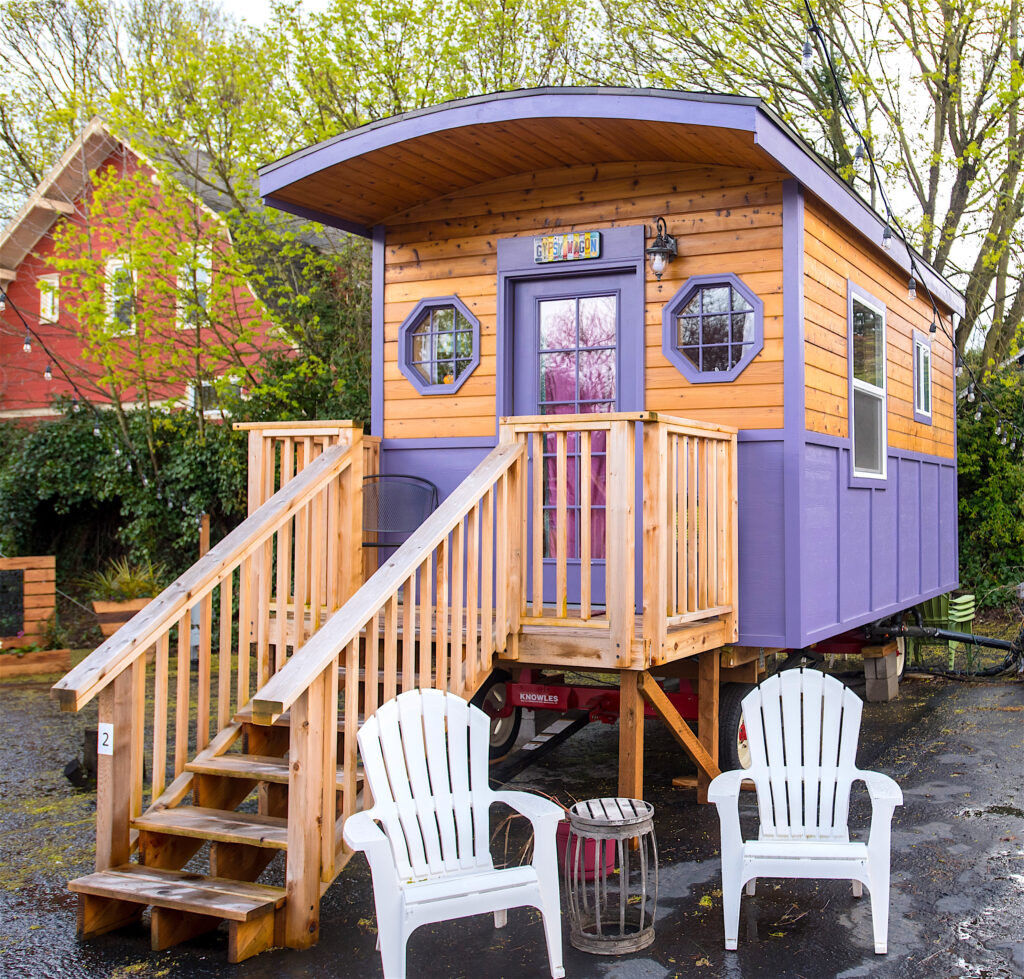 Image Credit: TinyDigsHotel.com
Tiny House Hotels are representing the Tiny House Industry brilliantly – with each Tiny House portraying different personalities. They are all so wonderfully unique – I just can't decide which one's my favorite. Which one of the Tiny House Personalities do you prefer, and why?
Written by Alicia